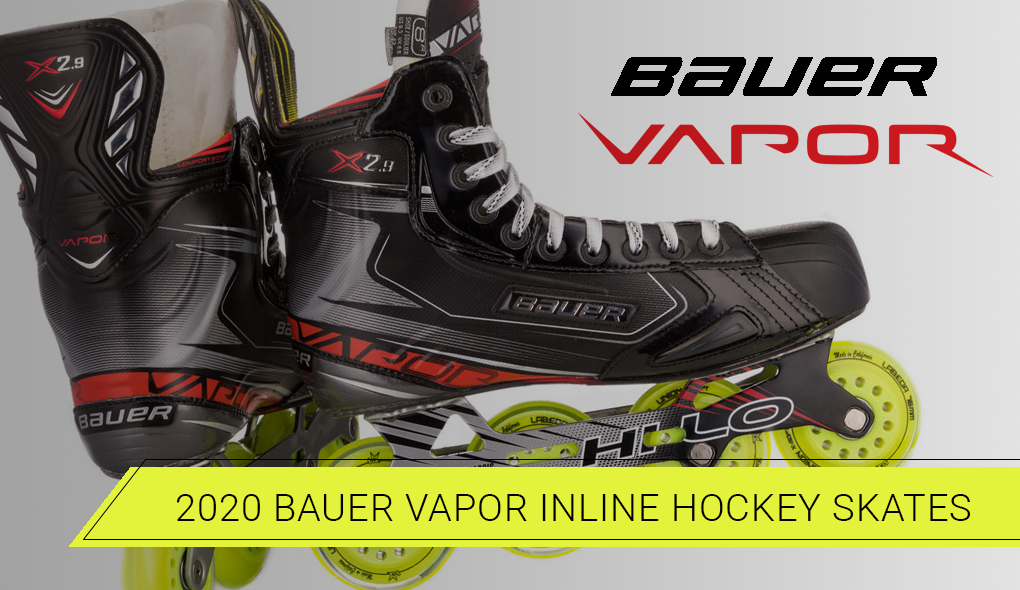 The 2020 Bauer Vapor inline skate line is set to be released on February 14, and whether you're looking for Junior or Senior Vapor roller skates, Pure Hockey is here to give you all the information you need to purchase with confidence.
Building on its popular design and high-performing construction, Bauer continues to enhance the Vapor line with new technologies and features, providing a high-quality pair of inline skates to suit every type of player—from those who skate once a month to those who play almost every day.
Although the technologies have been tweaked and improved, the Vapor lineup of skates remains Bauer's low-profile fit. This boot is ideal for players with low volume dimensions. If you're unsure which skate line fits your foot best, or you're looking for accurate measurement and assessment, visit your local Pure Hockey store.
Bauer Vapor 2XR Pro Inline Skates
Another major upgrade in the 2XR Pro is the use of AERO FOAM, engineered to give you a truly custom fit and the highest level of thermoformability. As the name would suggest, Bauer's LOCK-FIT Pro liner helps to lock your foot into the boot and prevent against sliding. This feature increases the energy transfer in every stride you take. The RECOIL PRO tongue rounds out the technology upgrades in the boot and it is geared to improve responsiveness, flexibility, control, and comfort.
Upgrades and improvements can be found under the boot, as well. The composite outer shell holds a HI-LO Kryptonium chassis attached with HI-LO Swiss bearings. The HI-LO Kryptonium chassis is specially built to hold two different size wheels, two 76-mm wheels in the front and two 80-mm wheels in the back. This design gives the skater an improved attack angle optimal for power, speed and control. The Hi-LO Swiss bearings further maximize your stride.
Bauer continues to use the absolute best technology available in inline skate wheels, with the Labeda Addiction wheels. These high-end wheels are designed with the power skater in mind, providing increased flex and grip to match any skating style. The Addiction Grip has a hard center urethane core, matched with a hard-inner speed ring, offering the ideal combination of increased performance and resistance to wear.
All of this technology has improved an already high-performing top-of-the-line Vapor product. If you are a player skating four to five-plus times per week, or any player looking for excellent comfort and top-level performance benefits, the Bauer Vapor 2XR Pro is a great option.
Bauer Vapor 2XR Pro Inline Hockey Skates [Senior]
Bauer Vapor 2XR Inline Skates
Other technologies in the Vapor 2XR system include Bauer's RECOIL tongue for added flexibility, helping to enhance your skating stride, AERO FOAM+ padding in the ankle area for great comfort and an improved fit, and the LOCK-FIT liner and LOCK-FIT footbed to help secure your foot in the boot for increased performance.
Some of the main differences between the 2XR Pro and the 2XR can be found under the boot. The 2XR comes equipped with a Clear TPU with PET Film outer sole. Attached to that is a CNC HI-LO Aluminum chassis with HI-LO Swiss bearings. The CNC chassis still allows for two different size wheels to enhance speed and control.
Speaking of wheels, the Labeda Addiction is a true high-end wheel designed for tile surfaces with an outer urethane hardness, providing maximum grip. This is the same wheel found on the 2XR Pro.
If you are a player looking for a skate with high-end technologies at a value price, the Bauer S20 Vapor 2XR Inline skate is a terrific option.
Bauer Vapor 2XR Inline Hockey Skates [Senior]
Bauer S20 Vapor X2.9R Inline Skate
Attached to the Clear TPU outsole is the HI-LO Aluminum chassis, with HI-LO Abec 9 Bearings. This frame still allows for a two-size wheel design, giving the skater an increased attack angle for more speed and control, using the advantages that come with both small and large wheels.
As for those wheels, Bauer has utilized the Labeda Union. These wheels use a large injection-molded core for enhanced speed, combined with a soft compression apex ring for maximum grip and unmatched edge-to-edge feel. The result is a supremely fast wheel with great striding and stopping power.
The Bauer Vapor X2.9R inline skate is an ideal option for players looking to benefit from some high-end technology without spending top-of-the line money.
Bauer Vapor X2.9R Inline Hockey Skates [Senior]
Bauer Vapor X2.9R Inline Hockey Skates [Junior]
Bauer Vapor X2.7R Inline Skate
Looking below the boot, the X2.7R inline model has a TPR Outsole, and a HI-LO Aluminum chassis attached by HI-LO Abec 7 bearings. Much like in the X2.9R, Bauer has used the Labeda Union wheels to give you enhanced speed and an unmatched edge feel.
The Vapor X2.7R inline skate is a fantastic model for any player looking for great value in a skate with solid technologies that will help their game.
Bauer Vapor X2.7R Inline Hockey Skates [Senior]
Bauer Vapor X2.7R Inline Hockey Skates [Junior]