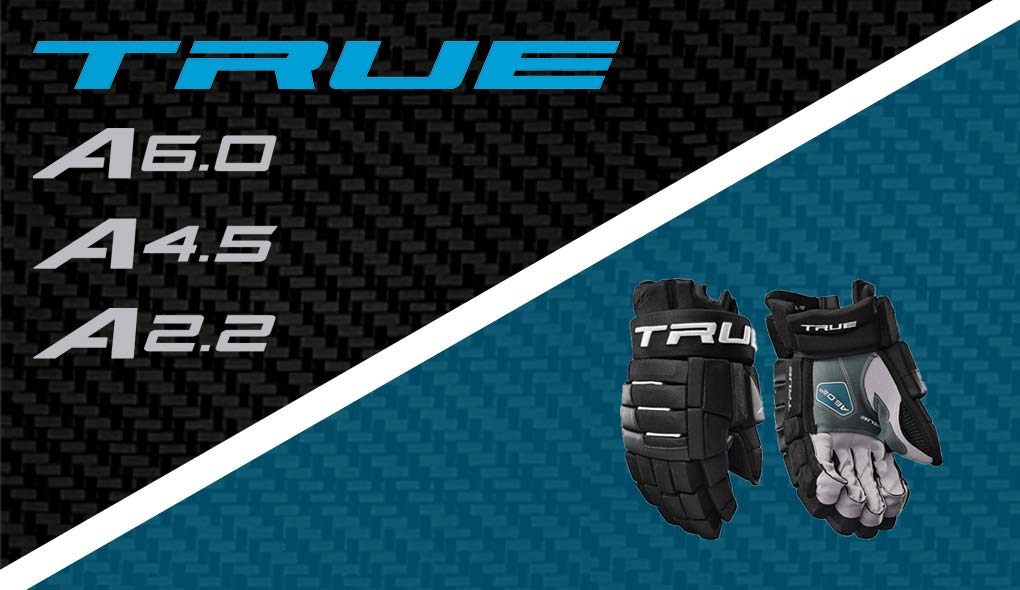 The 2019 TRUE A-Series glove line is available at Pure Hockey, so we're giving you all the information you'll need to make your purchase. Fans of TRUE equipment will love the upgrades to this year's gloves, with plenty of high-end technologies that offer a great combination of comfort, mobility, and protection.
The TRUE A-Series gloves all come in a classic, four-roll fit. This design, a favorite among many players, sits comfortably against your hand, with plenty of room for movement and flexibility, but without feeling too loose.
TRUE A6.0 Pro Gloves
TRUE enhances the traditional four-roll design with some key, top-end technologies, in the new A6.0 Pro hockey gloves. For the construction, TRUE includes a high-grade nylon shell for a lightweight feel, and an ergonomic cuff for added mobility around the wrist to help with puck control.
For protection, the A6.0 Pro gloves feature Pro Grade EPP foam with PE inserts, providing premium shock absorption from common hockey impacts like slashes and blocked shots. TRUE also uses their TRUEFLEXX+ Lock Thumb technology for quality protection and optimal mobility while preventing your thumb from hyperextending.
Inside the glove, TRUE's Microban Protection System includes antimicrobial properties to help reduce odor caused by the growth of bacteria, keeping the gloves cleaner and fresher for longer. And the AX Suede palm offers great comfort and added durability in an area prone to wear and tear.
True A6.0 Pro Hockey Gloves – Senior
True A6.0 Pro Hockey Gloves – Junior
TRUE A4.5 Gloves
This year's TRUE A4.5 hockey gloves share some of TRUE's best features with the A6.0 Pro, making this model an excellent value. These technologies include the nylon shell, ergonomic cuff, TRUEFLEXX+ Lock Thumb, AX Suede Palm, and Microban technology.
For protection, the A4.5 gloves feature EPP foam. While not at the level of the high-grade EPP foam included in the A6.0 Pro gloves, this material still offers quality shock absorption and impact resistance, helping to protect your hands throughout the game, whether you're on offense or defense.
True A4.5 Hockey Gloves – Senior
True A4.5 Hockey Gloves – Junior
TRUE A2.2 Gloves
The new TRUE A2.2 hockey gloves round out the new A-Series line, featuring the same four-roll construction with some quality features at a lower price point. Like the A6.0 Pro and A4.4 models, the A2.2 has a nylon shell, ergonomic cuff, the TRUEFLEXX+ Lock Thumb, and Microban technology inside the glove. This option also includes Eva Dual Density foam for good protection in the fingers and backhand.
True A2.2 Hockey Gloves – Senior
True A2.2 Hockey Gloves – Junior
---
Are you in the market for new TRUE protective gear? Pure Hockey carries gloves, shoulder pads, elbow pads, shin guards, and pants, for players at every age and skill level. And our Low-Price Guarantee promises the best deals available on everything we sell. Consult our Resource Center to find informative equipment and fitting guides: They'll help you choose the right equipment for yourself or your child.