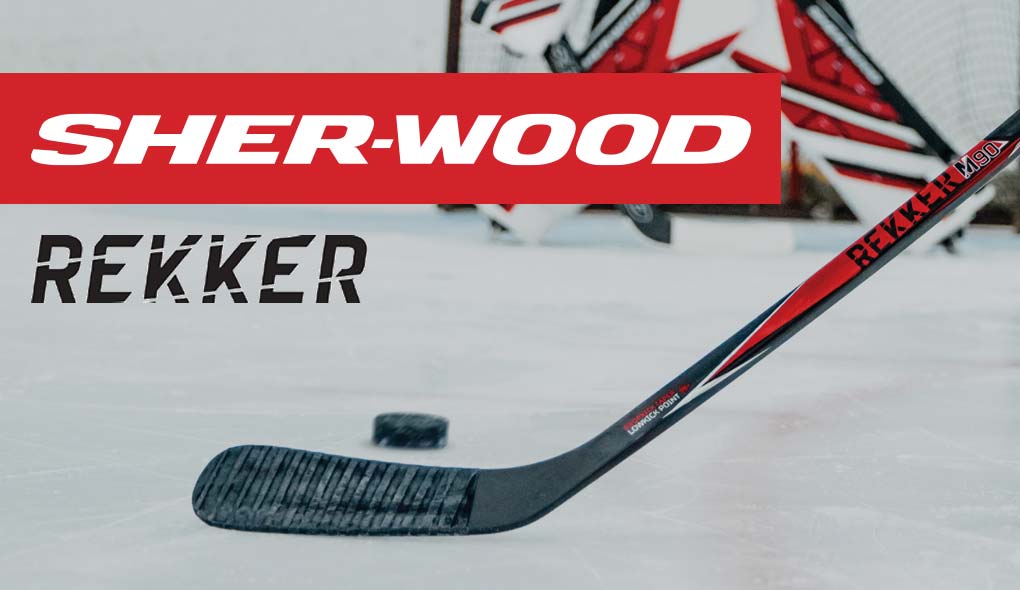 The new Sher-Wood hockey sticks are now available, so Pure Hockey is giving you all the information you'll need to make your purchase. The 2019 Rekker line is the next evolution of Sher-Wood sticks, with many new features and technologies included in four models, each constructed to help players at every level improve their shots and play their best.
The new Rekker sticks all feature a low kick point, best suited for players who take quick-motion shots, shoot close to the net, and benefit most from release speed over power. If you're unsure which kick point is right for your game, or you're looking for an accurate assessment, visit your local Pure Hockey store.
Sher-Wood Rekker M90 Stick
The 2019 Sher-Wood Rekker M90 hockey stick exemplifies the advancements Sher-Wood has made in their sticks, with a variety of top-end innovations to complement the low kick point design. One technology is the Dropkick Taper. This design drops the taper further down the hosel than the typical low-kick model, helping to generate a faster release, making this Sher-Wood's quickest kick point design ever.
To complement this new kick point technology, Sher-Wood implemented new features in the shaft and blade. The shaft includes Blackline XXV Carbon Fiber. This proprietary weave yields Sher-Wood's lightest and most responsive stick to date, offering players an excellent puck feel. The Rekker M90 also features Flylite II technology for a carbon fiber layup that improves balance and durability; Graphene Infused material for excellent impact resistance; and Resinjection System to extend the life of that new stick pop.
For the blade, Sher-Wood uses their new VRF.4 design. Building off the VRF.3, this new blade construction is thinner and lighter, incorporating advanced foams for great consistency and control when stickhandling, passing, and shooting.
Sher-Wood Rekker M90 Hockey Stick – Senior
Sher-Wood Rekker M90 Hockey Stick – Intermediate
Sher-Wood Rekker M90 Hockey Stick – Junior
Sher-Wood Rekker M90 Hockey Stick – Youth
Sher-Wood Rekker M80 Stick
This year's Sher-Wood Rekker M80 hockey stick includes many of the same top-end features as the M90, making this model an excellent value for the elite or performance-level player who skates a few or more times per week.
These features include the Dropkick Taper for an enhanced quick release; the Blackline XXV Carbon Fiber for a lightweight feel; Resinjection for high-end structural strength; and the VRF.4 Blade for excellent control. The M80 also includes Spear Shaft technology—a trusted Sher-Wood feature included in many top models—which makes the shaft run through the heel of the blade for a better puck feel and increased consistency with every shot and pass.
Sher-Wood Rekker M80 Hockey Stick – Senior
Sher-Wood Rekker M80 Hockey Stick – Intermediate
Sher-Wood Rekker M70 Stick
The new Sher-Wood Rekker M70 hockey stick offers the casual or performance-level player a quality low-kick model, with some high-end features included that make this stick a great value. The technologies used in the higher-end models include the Dropkick Taper and Spear Shaft technology. Unique to the M70 stick is the VRF.2 Blade. This blade design, while not at the level of the all-new VRF.4 blade in the top-end Rekker sticks of this year, still provides good durability and responsiveness for players who may not skate frequently, but still want a good feel of the puck when stickhandling and passing.
Sher-Wood Rekker M70 Hockey Stick – Senior
Sher-Wood Rekker M70 Hockey Stick – Intermediate
Sher-Wood Rekker M70 Hockey Stick – Junior
---
The 2019 Rekker line helps to redefine Sher-Wood sticks, with high-level options for elite skaters and affordable models for casual players. If your game calls for a low kick point stick, Sher-Wood has you covered regardless of your skill level or frequency of play.
Are you in the market for new Sher-Wood ice hockey sticks? Pure Hockey carries plenty of options for all playing styles. And our Low-Price Guarantee promises the best deals available on everything we sell. Check out our Resource Center for informative equipment and fitting guides designed to help you choose the right hockey equipment.