The 2019 CCM Tacks 9080 protective gear is scheduled for release on May 24 (pre-orders start April 26th) but Pure Hockey has all the insider information for you now. Players who want elite-level hockey equipment but don't want to pay top dollar should seriously consider the new CCM Tacks 9080 protective gear.
CCM Tacks 9080 Hockey Gloves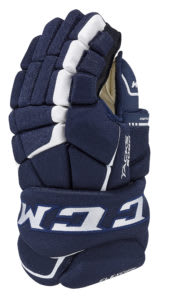 The new CCM Tacks 9080 hockey gloves offer an array of top-quality comfort and protection features designed to improve every player's on-ice experience. Constructed of the same pro-selected polyester as the Super Tacks AS1 glove, the Tacks 9080 glove is durable and lightweight, with an anatomical fit for a comfortably snug feel in the backhand, and a segmented cuff for enhanced freedom of movement, flexibility, and protection.
The gloves' fingers and backhand are bolstered by PE foams and PE inserts for extremely lightweight construction and protection, while 3DO smart material—CCM's most protective material—provides elite-level impact and shock absorption. In fact, you'll find strategically placed 3DO in almost every piece of Tacks 9080 protective gear.
The 9080 hockey gloves have a Clarino palm with kevlar reinforcement for a top-of-the-line pro feel and durability, thanks to the increased abrasion resistance that helps prevent premature palm breakdown. The two-piece Pro Flex thumb (available only on the senior model) provides excellent mobility and fantastic stick grip.
The 9080 hockey glove liner is soft and comfortable and features an anti-microbial Polygiene treatment to help keep odor-causing bacteria from getting a grip on your gloves.
CCM Tacks 9080 Hockey Shoulder Pads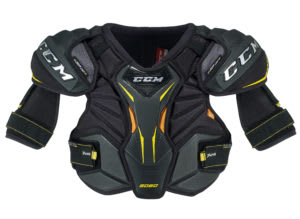 This year's Tacks 9080 hockey shoulder pads continue the trend of promising elite-level comfort, protection, and adjustability, but at a secondary price point. Featuring an anatomical 3D design and construction, the 9080 shoulder pads stay close to the body with length-adjustable straps for a customizable fit.
3DO smart material in the shoulder caps and sternum helps disperse impact energy with its shock-absorbing technology, just like it does in the Super Tacks AS1 pads. A molded PE floating spine design in the Tacks 9080 pads delivers superior protection, comfort, and increased mobility. The torso comes with high-grade HD foam—slightly different from the Super Tacks AS1 pads—for excellent kidney coverage, while the removable belly pad provides plenty of added protection.
The CCM 9080 shoulder pads are fully adjustable, with customizable bicep protection and adjustable straps throughout. And underneath all the elite-level protection in the pads, a comfortable base jacket with mesh liner allows for optimized air flow, keeping you cool and dry.
CCM Tacks 9080 Elbow Pads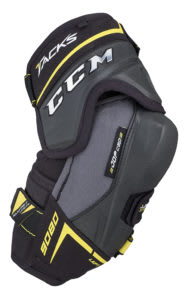 This year's Tacks 9080 elbow pads are extremely lightweight and protective with 3DO smart material in the JDP cap and forearm. The forearm also features compress-molded PE foam for additional shock absorption and elite-level protection. Articulated construction in the biceps includes molded, exposed foam for superior adjustability and protection, while the 360° surround-strap system secures the 9080 elbow pad in place for maximum comfort and fine-tuned protection.
CCM Tacks 9080 Shin Guards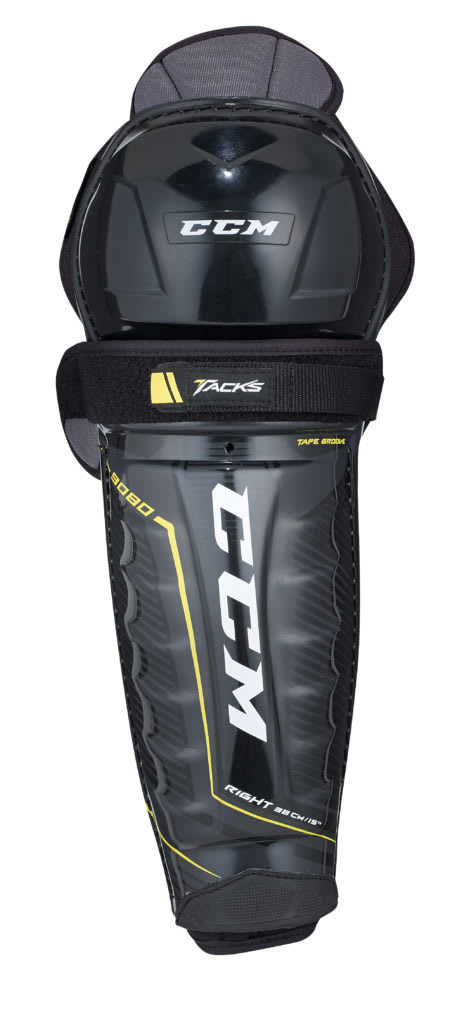 The new Tacks 9080 shin guards promise a snug fit for every calf size, thanks to an upper lock strap and adjustable calf strap. The 9080 shin guards also feature pro-level protection with premium PE foam in the shin cap and calf, and 3DO in the knee cap and calf areas.
A removable comfort liner with knee cutout provides yet more adjustability and customization for an excellent level of comfort.
CCM Tacks 9080 Hockey Pants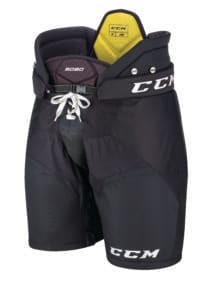 The latest CCM Tacks 9080 hockey pants offer a snug, anatomical fit. They're constructed with premium-quality Pro 400D nylon with side panel reinforcements for reduced weight and durability in high-wear areas, similar to the Super Tacks AS1 pants.
The Tacks 9080 hockey pants are designed for adjustability and elite-level protection, with pro-level 3DO cap construction in the hip area—also found in the floating spine protector. The kidney and thigh areas come with pro-level molded PE foams for improved protection, while the internal belt system features a length-adjusting zipper with a one-inch length extension for a customizable fit.
The 2019 CCM Tacks 9080 protective gear offers almost all the same protection and adjustability as the Super Tacks AS1 gear, but at a more affordable price. Tacks fans will love the top-quality 3DO protection and the many customizable features.
Are you in the market for new CCM protective gear? Pure Hockey carries a wide variety of CCM shoulder pads, elbow pads, shin guards, and pants, for players at every age and skill level. And our Low-Price Guarantee promises the best deals available on everything we sell. Consult our Resource Center to find informative equipment and fitting guides: They'll help you choose the right equipment for yourself or your child.