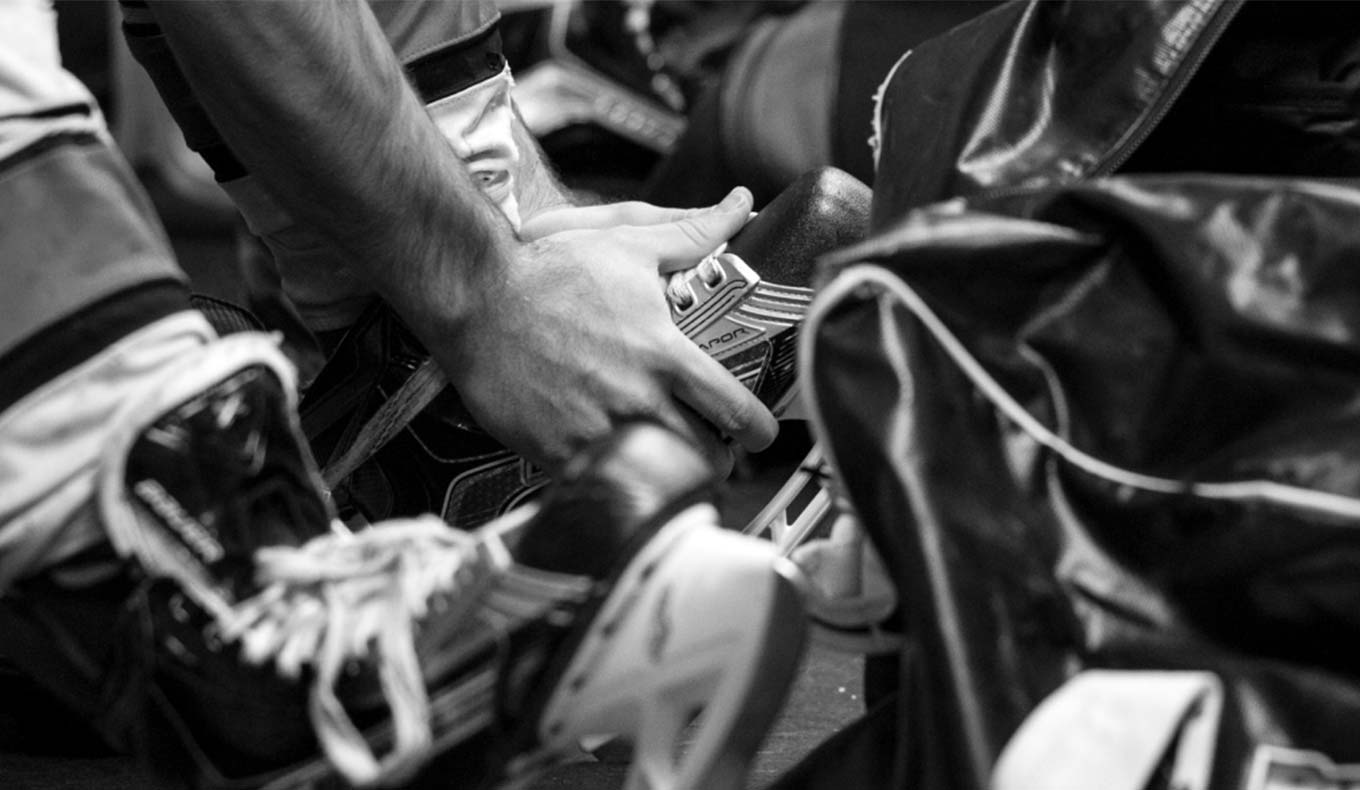 It's not a given that you need 'high-volume' hockey skates if you have wide feet. When fitting hockey skates, width is just one dimension to consider. That said, you may choose high-volume skates if you have large feet with a broad heel, a high instep, and a wide forefoot.
How to Fit Hockey Skates
'Size' refers to skate length. Length is commonly categorized by age: youth, junior, or senior, with their corresponding size numbers. On the other hand, 'fit' refers to how the skate fits the foot overall in terms of heel, instep, and forefoot.
Generally, foot width is designated the following way:
C = Narrow
D = Standard
R = Slightly wider than D (D+)
E = Wide
EE = Widest
Most skate families, even low-volume ones, come in wide (E and EE) models, for example the Bauer Vapor line. It's likely, though, that skaters with wide feet require a high volume in the other fit dimensions, as well. The Bauer Nexus and the CCM Tacks families are those makers' roomiest skate lines, and from elite-level to performance-level, they offer plenty of desirable features.
The Best Wide Hockey Skates
Bauer Nexus 2N
Nexus is Bauer's high-volume skate family, and the Nexus 2N is the most advanced Nexus skate. All Nexus skates feature a wide forefoot/toe box, maximum ankle wrap, high instep, and extra depth in the heel pocket.
Built for elite-level players, the 2N is also packed with top-end comfort and performance features, including an ultra lightweight, 3-D lasted CURV composite boot, a Form-Fit+ footbed, and memory foam ankle padding for a customized fit. The 2N also comes with the Tuuk Lightspeed Edge holder, that allows you to change your own blades with the pull of a trigger—a very nice feature.
Elite skaters, or even aggressive intermediate-level skaters who are on the ice frequently, will love the 2N. It offers plenty of room and all the high-end, pro-level performance you'd expect in a premium Bauer skate.
CCM Super Tacks AS1
The Super Tacks AS1 is CCM's elite offering for skaters with wide feet. The entire Tacks line has what CCM calls an 'anatomical' fit, with a medium forefoot and anatomical heel lock.
In addition to being the roomiest high-end skate CCM makes, the AS1 boasts a one-piece boot that boosts energy transfer and overall skate performance. Stride energy now no longer passes through an outsole—energy is transferred directly to the ice for explosive performance.
Along with the incredible performance of its MonoFrame 360 one-piece boot, the AS1 offers a host of comfort features, including a TriTech Flex tongue, DuraZone abrasion pads, Smooth Contour collar pads, and an OrthoMove Custom Support vented footbed.
Budget-Friendly Wide Hockey Skates
The next two selections are performance-level skates that feature all the room wide-footed skaters need, but at price points appealing to skaters who skate less frequently or who are new to the sport and thus not likely to need premium stiffness and performance.
Bauer Nexus N2700
N2700 is the Nexus entry-level offering, but still a thoroughly performance-level skate. Like all Nexus skates, the N2700 offers a roomy, high-volume fit, but is much more budget friendly than the 2N.
The Nexus N2700 features a 3-D injected core with Bauer's Trueform tech PU that provides an anatomical fit right out of the box. And while the skate features surprising stiffness for the price, the boot is more forgiving, which will help new skaters master their stride all the more easily.
Similarly, the injected TPR outsole isn't so torsionally stiff new skaters will have to fight the skate. Instead, it offers a moderate level of stiffness to help skaters develop their stride.
Like the 2N, the N2700 includes the same pro-level Tuuk blade holder with trigger release—the most popular blade holder in the NHL right now and a great feature for a performance-level skate.
CCM Tacks 9070
The comparable CCM offering to Bauer's N2700, the Tacks 9070 comes with some pro-level specs at a performance-level price point. Like the AS1, the 9070 features CCM's roomiest, anatomical fit.
The CCM 9070 has an extremely lightweight, thermoformable boot. It's constructed with RocketFrame Composite, a professional-grade specification inherited from CCM's top-end Jetspeed FT1 skate. A pro-level material at a mid-range price point—that's excellent value.
The 9070 also includes an injected TPU outsole with a vent for enhanced ventilation and dryness, Smooth Contour collar pads, DuraZone abrasion patches, and an Anatomical Response footbed—several comfort features you'll also find in the top-end AS1 skate.
Of course, you'll want to head down to your local Pure Hockey store and try on all these amazing skates. Remember that fit and feel are more important than the brand. Keep in mind, too, that skates will break in over time. If you're wondering how to bake your hockey skates, leave it to the pros at Pure Hockey. They'll get you a custom fit right in the shop.