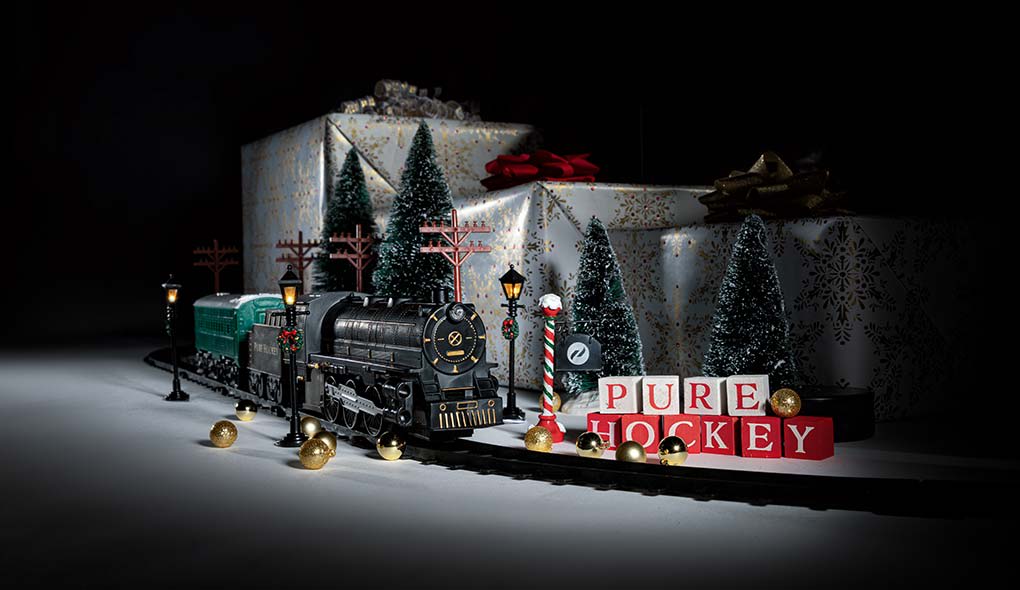 This holiday season, Pure Hockey has you covered with a wide selection of gifts for the hockey lovers in your life. Check out our 2019 holiday gift guides for our top picks, and shop online or visit your nearest Pure Hockey store to find the best deals on everything from sticks and skates to stocking stuffers for family and friends (and maybe yourself!)
Pure Hockey's Top Holiday Picks for 2019
Our Top Holiday Picks feature great hockey-themed gifts for any player or fan on your list.
10. Bauer Supreme S29 Hockey Skates [Shop Now]
One of the best gifts for hockey players during the holiday season, the value-driven Bauer Supreme S29 skates combine high performance with comfort.
9. Lightning Sports Hockey Goals [Shop Now]
With different options to choose from and easy-to-store technology, the Lightning Sports folding goal trainers remain great gifts for players who wish to refine their shooting technique.
8. CCM Ribcor Pro 3 PMT Grip Composite Hockey Stick [Shop Now]
A high-performance stick featuring a low kick point, the CCM Ribcor Pro 3 PMT is designed for players who want to develop quick-release shots.
7. Saucer Toss Supreme [Shop Now]
The ultimate Cornhole-like contest for hockey enthusiasts, this is the perfect game to play around the house, in the office, or at a tailgate. Playing to 21, successful saucer passes into the small net count for three points; one point for passes into the big net.
6. Pacific Rink Bags [Shop Now]
A new player in the hockey bag market, Pacific Rink offers two styles with useful, built-in compartments. These bags are made with players' needs in mind.
5. CCM JetSpeed FT490 Hockey Skates [Shop Now]
The CCM JetSpeed FT490 ice hockey skates rank near the top of the line for value-driven players. Built for speed and comfort, these skates are perfect for the player who hits the ice 3-4 times a week.
4. Warrior Alpha Pro Hockey Gloves [Shop Now]
Putting your hands in Warrior Alpha Pro hockey gloves has been described as the "feel of butter." The gloves are produced for comfort and style and are available in several colors.
3. Bauer Re-Akt 150 Hockey Helmet [Shop Now]
Don't forget to protect your head this holiday season! Versatile and comfortable, Bauer's Re-Akt 150 helmets are available in three sizes and an assortment of colors.
2. Bauer Vapor FlyLite Grip Composite Hockey Stick [Shop Now]
A high-performance hockey stick, the Bauer Vapor FlyLite is known for its low kick point, allowing shooters to release quicker shots.
1. SuperDeker Advanced Hockey Training System [Shop Now]
One of the coolest hockey gifts for both kids and adults, the SuperDeker training system can be used virtually anywhere. The product sold out last year and could again this holiday season, so don't sleep on it!
Pure Hockey's NHL Fan Favorites
Our NHL Fan Favorites list is where to find the best team and NHL gear for the die-hard hockey fans among your family and friends.
10. Franklin Mini Hockey Equipment [Shop Now]
Franklin offers a selection of cool mini hockey gear including stick and goal sets with your favorite team's logo.
9. Northwest Company [Shop Now]
Specializing in travel and relaxation items, Northwest Company offers hockey-themed gifts for, among others, road warriors (neck braces), travelers (backpacks), and home dwellers (bean bags).
8. Great American Products Drinkware [Shop Now]
With NHL-branded drinkware for all occasions, including morning coffee, game-day beer, and travel flasks, Great American Products offer good gifts that hockey fans can use anytime.
Frameworth offers great hockey gifts for kids – and adults. Photocard frames of NHL players and panoramic views of NHL rinks are sure to enhance your holiday season.
6. Can Coolers [Shop Now] and Coasters [Shop Now]
Gifts for hockey lovers come in many sizes and shapes. They also can be useful, like can coolers and coasters complete with NHL logos.
5. NHL Branded Chairs [Shop Now]
For comfort on the go or extra seating around the house for games, these NHL branded chairs are cool hockey gifts so fans can remain comfortable indoors or out.
4. Bitty Boomers Bluetooth Speakers [Shop Now]
Designed as NHL mascots, these mini Bluetooth speakers may be small, but the sound is big. Two (rival) speakers can be paired to enhance any locker-room atmosphere.
3. Replica & Authentic NHL Jerseys [Shop Now]
True NHL fans love to wear the sweaters of their favorite players, current or classic. Pick the number and wear these NHL jerseys with pride.
When an NHL game is not on any streaming device, what should fans do? Play different types of NHL games, of course, like NHL Checkers or NHL-Opoloy.
1. NHL Branded Apparel [Shop Now]
NHL apparel never goes out of style. For kids and adults, Pure Hockey offers a wide variety of NHL-branded clothing for anyone to wear anytime.
Pure Hockey's Stocking Stuffers Guide
Our Stocking Stuffers guide features unique hockey gifts that any hockey lover will appreciate.
10. Pure Hockey Water Bottles [Shop Now]
Every hockey player needs a water break now and then. Pure Hockey has a variety of water bottle sizes and styles to fulfill every player's needs.
9. Woodchuck USA Bottle Openers [Shop Now]
A great gift for hockey fans, these Woodchuck USA bottle openers come in two sizes, bartender and wallet. Plus, you can help save the world: a tree will be planted after each purchase.
Imagine you are wearing ice skates and the pond hockey rink is on the other end of a parking lot – and you have no blade covers. That's a true nightmare. All players could use an extra set of blade covers.
7. Mini Hockey Sticks [Shop Now] and Balls [Shop Now]
Mini hockey sticks and balls continue to be popular and unique hockey gifts for kids and adults. A proven winner for fans of all ages.
6. Howies Hockey Accessories [Shop Now]
With a devoted following, Howies' hockey-themed gifts are perfect stocking stuffers. If it's hockey-related, Howies has it, everything from tape to wax.
What is more important to skaters than comfortable feet? Superfeet hockey insoles can make your feet feel just that, super.
4. Lizard Skins Hockey Grip Tape [Shop Now]
Lizard Skins tape is one of the best gifts for hockey players who wish to – literally – have a much better grip on their games.
3. Buttendz Hockey Stick Grips [Shop Now]
Hockey stick ends generally remain an under-appreciated stocking stuffer. Often overlooked, yet greatly coveted, Buttendz stick grips are a versatile gift that can be transferred from one stick to another.
2. Stance Underwear and Socks [Shop Now]
Underwear and socks for the holidays? Absolutely. Especially if you're a hockey player who wants to stay warm and dry.
1. Top Shelf Targets [Shop Now]
One of the top sellers from 2018, Top Shelf targets remain one of the best gifts for hockey lovers. Able to attach to goalposts magnetically, these targets allow players to practice shot accuracy with ease.