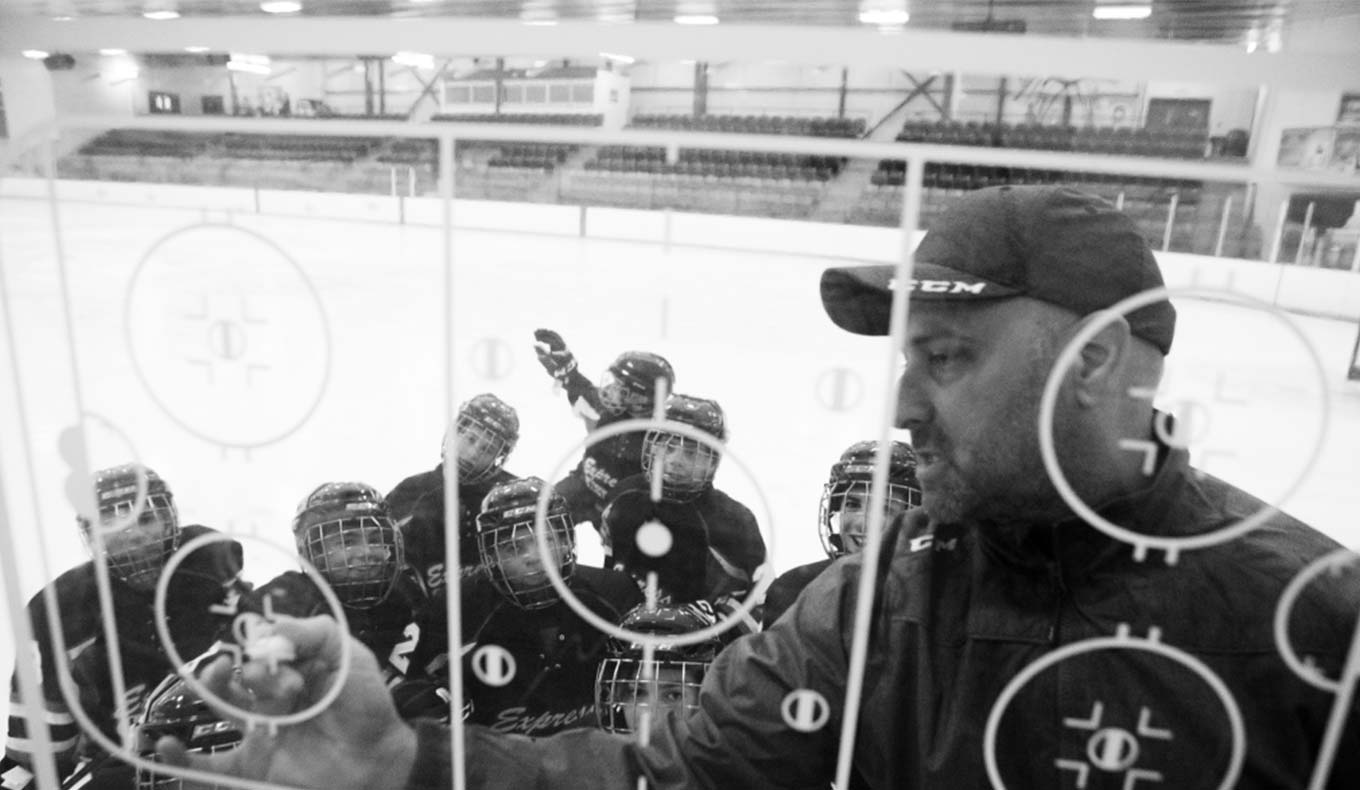 While the priority of every hockey player should be developing the skills that are the foundation of the game—skating, passing, shooting, and positioning—most hockey coaches are looking for more than just technical ability. Players must also work to develop those intangible qualities that will help them improve their skills, work with their coaches, and gel with their teammates.
David A. Jensen has been on both sides of the coach-player relationship at the highest levels. As the top scorer on Team USA at the 1984 Olympics and a veteran of three NHL teams, he has played for some of the best coaches in the world. He now owns and operates DAJ Hockey, New England's premier hockey skills training company, working to help youngsters develop their game. According to Jensen, it's most often a player's intangible qualities—rather than on-ice skills—that separate them from the pack.
"Coaches are always looking for those players who are willing to work harder to improve, take direction well, and serve as role models for their teammates," Jensen says. Here are the top five 'intangibles' he prizes when he evaluates a player.
1. Coachability
Good coaches are also good teachers, and they value players who listen and take direction well. Players who are eager to learn, who can take advice and then apply it, and who are willing to play how the coach has asked them to are more likely to end up on the ice at game time, Jensen says. Those players who think they know better than the coach or who just want to play the way they like to play will often stay on the bench more than their skills might warrant.
The coach is there to help each player improve and to help the team as a whole play better hockey (which hopefully translates to wins). If you work hard to be a good student and to implement the coach's vision of how you should play, chances are good that your diligence will be rewarded.
2. Strong Work Ethic
Any coach expects his or her players to put in the work during practice, but a player who shows a "willingness to go the extra mile" will always catch a coach's eye, according to Jensen. The work that a player does outside of practice won't go unnoticed. For instance, if your coach comments on something you need to work on and then you do the work and show improvement, the coach will know you can be counted on in the future. It also shows you're as committed to your progress as the coach is, and that shared goal is a strong predictor of future success.
Your on-ice work ethic is also important. Coaches love a player who always gives 100%—grinding it out in the corner, back-checking hard, and covering for teammates—even when the game isn't on the line. Hockey is a fast-paced, exhausting sport, and it's tempting sometimes to take shortcuts or dial back the intensity. But if you're lollygagging during your shift, your coach will notice…and remember.
3. Character
Character is all about making the right choices, and it's important both on and off the ice, Jensen argues. Famed motivational speaker Jim Rohn identified six essential components of good character: integrity, honesty, loyalty, self-sacrifice, accountability, and self-control. A player who demonstrates these character traits will earn the respect of coaches and teammates. By serving as an example to others, a player with good character can help make a whole team stronger, which is something any coach will value.
4. Reliability
"As a coach, I want to know that I can depend on you," says Jensen. Do you show up for practice and games on time? Are you ready to do your job on and off the ice? Coaches don't like to be disappointed, nor do they like surprises. Players who do what they say they'll do and who follow directions well are like gold, because they allow a coach to focus on the hockey itself.
5. Leadership
Because coaches can't play the games or be with their teams 24 hours a day, having players whom they can count on to be leaders is important. When the team is down by a goal with a few minutes left, will you start sniping at your teammates, or will you rally them? And on the night before an important game, are you going to a party, or will you make sure everyone gets to bed early? Good leadership is also important at practice, on the team bus, and in the locker room.
This is not to say that a team has just one leader; in fact, the role can change from situation to situation. If you can demonstrate that you've got leadership qualities, your coach will have more confidence in you.
Jensen argues that, as you work on becoming a better player, you need to focus on these intangibles as much as you work on your skating, stick-handling, and the like. Your goal should be to become a 'complete' hockey player, one whom a coach can count on and turn to when the going gets rough.