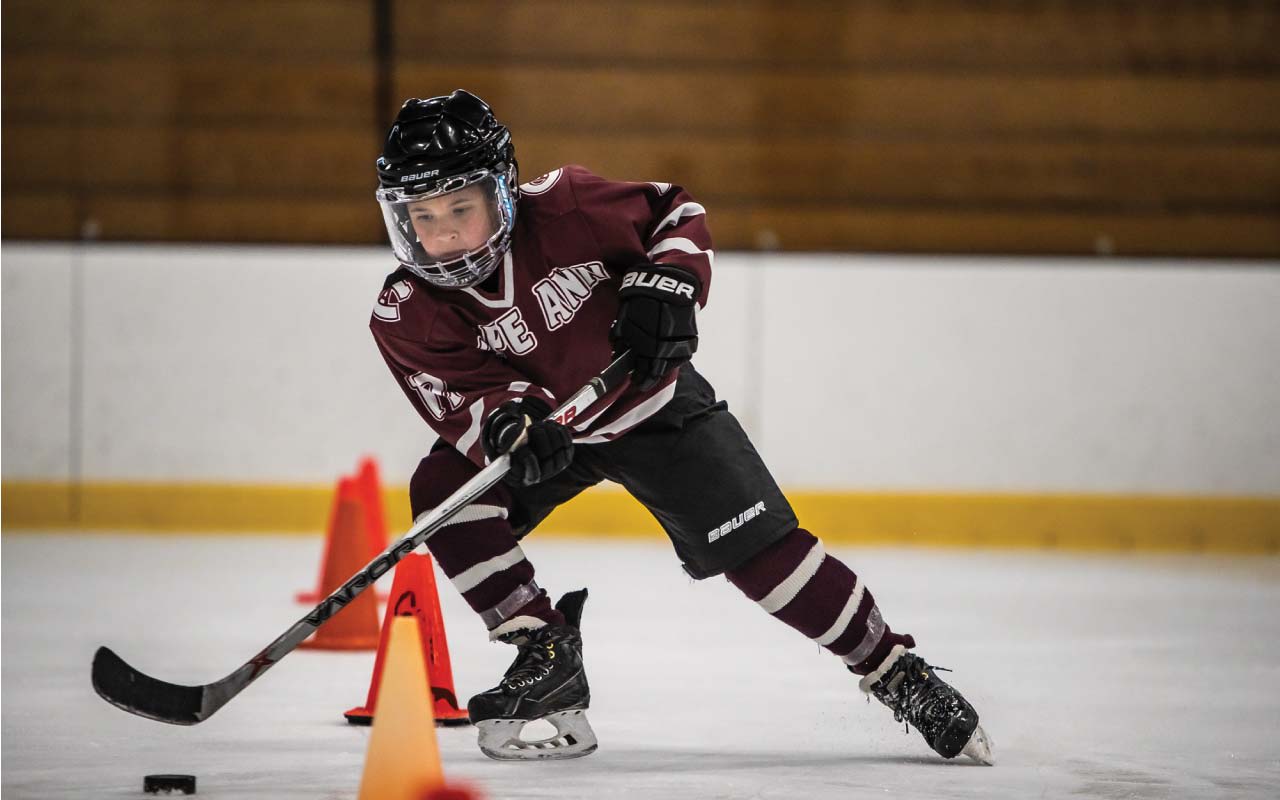 The best youth hockey camp will be the one that addresses the skill(s) you want to improve, that offers the most fun at an appropriate level, and that falls within the family's budget. Whatever age or ability levels the hockey camp addresses, or whatever its focus, you want to get the most value for your money in the form of the best instruction possible—and have the most fun. Develop a list of priorities and then choose the camp that most closely matches your goals.
Kinds of Hockey Camps
There's a dizzying array of niche hockey camps for players of every ilk, including camps for adults, overnight hockey camps, defense hockey camps, girls-only ice hockey camps, hockey camps for beginners, camps for elite players, and general hockey skills camps.

Once you've established your priorities and which camps will best meet them, consider the following factors as you narrow your choice.
Hockey Camps Near Me vs. Overnight Hockey Camps
It may be wise to choose a hockey camp that's within reasonable driving distance. Remember, you're going to be making that trip twice a day. Decide what the point of diminishing returns is. If you're spending two or more hours a day in the car driving back and forth from camp—remember, you're paying for the gas, too—is that hockey camp worth it? You're going to the camp, too—at least for drop-off and pick-up—so your convenience can make a big difference, particularly if you need to go to work afterwards.
If your child is looking for a summer hockey camp for something fun to do, or is more of a casual player, it might be wise to look for a local camp. Similarly, if your child is uncomfortable being away from home, an overnight camp may not be appropriate.
If your child is serious and skilled, it may make sense to invest in a highly regarded sleepaway camp or traveling, even by plane, to an elite hockey camp in another city or state, assuming there isn't one nearby. If your child's highly motivated and committed to the sport. There's no substitute for surrounding your child with the best players and instructors possible.
Ice Hockey Camp Skill Level
Don't waste time and money sending your child to a camp that doesn't suit their skill level. Your child's experience at any camp should be a positive one. Enrolling them in a camp where they're surrounded by significantly more skilled players will lead only to frustration. On the other hand, sending them to a camp beneath their skill level can also lead to frustration and boredom.
Most hockey camps will advertise the skill level(s) they teach. If you're not sure whether the camp will be a good fit for you or your child, contact the camp administrator and ask them directly what sort of kid usually attends the camp. It's to their benefit, too, that your child has a positive experience, and they'll tell you whether the camp will be too difficult or too basic.
Hockey Coach-to-Player Ratio
The more instructional staff there is, the more individualized instruction you or your child will receive. The coach-to-player ratio is a statistic camp administrators should have at the ready if it's not mentioned in the literature. Look for a low ratio of about eight (or fewer) campers per instructor.
While group instruction is necessary to introduce concepts, drills, and skills, you'll want some level of individualized instruction and tailored feedback. It's important for the hockey coach to interact with and get to know campers, preferably by name.
Hockey Camp Names
What's in a name? Don't be fooled by the razzle-dazzle of a star player's name. Often the star is there to sign autographs and open the camp with a speech, while most of the instruction is left to teens and local coaches. Rely on the camp's reputation over its name. Read the marketing materials. Call and ask questions. Remember—hockey camps are businesses. They exist to instruct, but also want and need to make money to survive.
If the camp is disorganized or the instructors can't effectively teach—even if a hockey camp is staffed with the best players around—then what's the point? Ask your fellow hockey parents what the word on the street is—they understand the position you're in and will offer unvarnished answers.
Cost and Time Considerations
Expect to pay the most for longer overnight hockey camps, and add a premium if the camp is attached to an NHL star's name. Local or reasonably nearby day camps should cost between $25 and $30 an hour. Factor in your gas and food for an accurate sense of the camp's total cost. You shouldn't need to donate a large chunk of your tax return for a week of hockey camp.
Of course, it comes down to how much you're willing to pay, but don't feel ashamed if finances are a determining factor. Remember, you want the most value for your money—if that expensive camp offers an unmatched experience, it may be worth it to you and your child to pay up. On the other hand, if your child's friends are all attending a local camp staffed with respected and familiar local instructors, then that might be the most valuable experience.
At the end of the day, it comes down not just to what is best for the child, but what works best for the parents, too. The whole family ultimately has a stake in the hockey camp you choose—make sure it's fun and productive for the kids, but also a good fit for your budget and schedule.