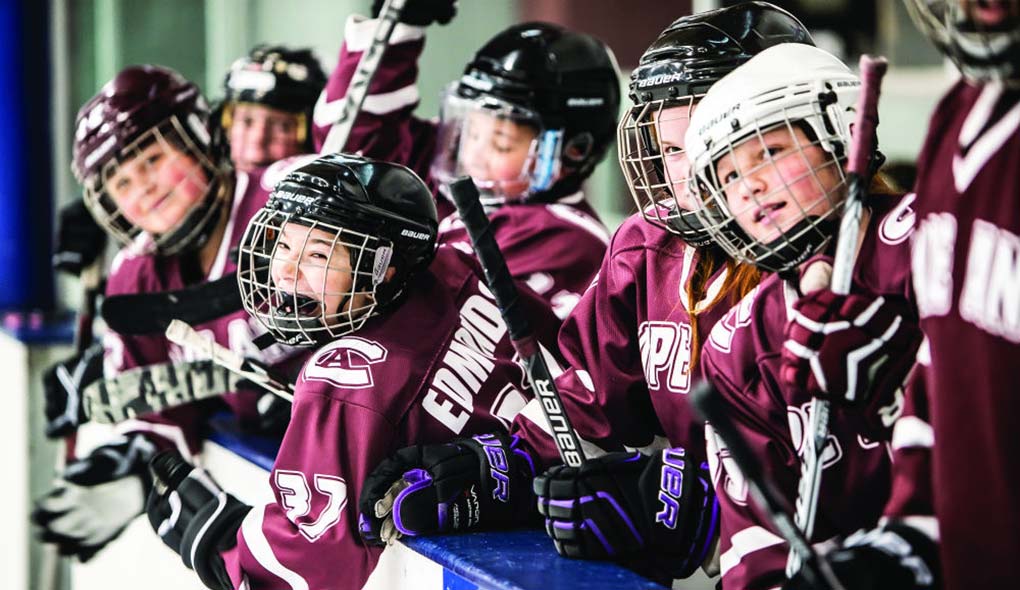 The first thing a parent should understand about enrolling a child in travel hockey is the dedication it takes to join and thrive as a member of an elite hockey travel team.
Travel sports are intended to allow competition between passionate, talented players, and most prospective players must initially stand out among their peers in a tryout before certified coaches. Then, they must continue to prove themselves in nearly 75 combined games and practices.
Competition can be fierce among the top players within an age bracket, even at the squirt level (age 9), and playing in a travel league is definitely a season-long commitment.
Should My Kid Play Travel Hockey?
For some young prospects, travel hockey is the perfect fit.
For others, the demands could prove to be too much.
As you sit down to consider whether your child should play travel hockey, weigh the pros and cons:
Travel Team Pros
An elite level of play: Kids on travel teams compete against top talent, and grind through weekly practices—for many, the rigorous pace and environment will accelerate the development of hockey skills.
Expert advice: Young players will learn from top coaches and, at times, come in contact with team alumni who went on to play at the college and professional levels.
No time for boredom: Though the schedule can be demanding, travel hockey provides constant activity to keep kids focused. Teenagers also are generally under the constant supervision of adults.
Close bonds: The frequent travel provides extra opportunities for families to bond. Teammates also have more chances to unite with each other on the road through team meals and swimming at hotel pools.
Worldly travelers: Players on travel teams are exposed to different cultures in different parts of the country. And some gain valuable insight and cultural enrichment from international travel.
Health benefits: There is a greater emphasis in travel leagues for young athletes to keep in shape and learn healthy habits. Daily exercise, following a more nutritious diet, and developing better sleeping habits can promote a healthier lifestyle.
Travel Team Cons
Financial facts: Travel hockey costs can add up, including clinics, equipment, ice time, lessons, league/team/registration/tryout fees, and weekend road trips. Some travel teams also require players to purchase coordinating warmup suits, helmets, gloves, and hockey bags.
Other participation expenses: The costs are more than monetary. Travel hockey takes time away from home and friends who don't skate. It also necessitates doing weekend homework assignments in the back seat of the car on the ride home from tournaments, instead of in the quiet of home.
Earning ice time: In travel hockey, there are few guarantees of regular playing time. Even-strength shifts and appearances on special teams must be earned.
Hockey burnout: While young players need a deep dedication to succeed, there is a chance some will eventually burn out and lose interest in the sport.
Greater risk for injury: Playing against top competition and participating in more demanding practices increases the risk of injuries.
Solo sport: With so much time dedicated to travel hockey, some kids may not have much time to participate in other extracurricular activities.
Is Travel Hockey Worth the Sacrifice?
The debate on travel sports, including hockey, has been ongoing for years.
Is travel hockey worth it?
Some maintain it is, because kids learn early life lessons, including life-work balance and time management.
To decide whether travel hockey is worth the extra effort and expense, uninitiated parents should talk to other moms and dads of players who have already experienced the rigors of a travel league. This way they can learn firsthand about the different sacrifices they will have to make.
Here are some top questions to ask other parents:
What are the true time and financial commitments?
How much time should parents expect to dedicate to volunteer activities and fundraisers?
What are the coaches really like?
Travel Hockey vs. House Hockey
Travel hockey is a different experience than house hockey. Here are some characteristics of each:
Travel hockey means
More travel;
More practices;
More time dedicated to the team;
Higher costs;
Better coaching; and
A better opportunity for players to develop their skills.
House hockey means
A more relaxed atmosphere in a recreational setting for young players to develop at their own pace.
Freedom from the convention of "top-player playing time." Generally, all players on the bench will receive more opportunities to play more consistently on even-strength shifts, and take alternate turns playing on power-play and penalty-kill units.
A chance for players to gain more confidence while handling the puck, and have fun doing it, since they will get more opportunities to see the ice at a less demanding pace.
An opportunity to stay closer to home and participate in the game with more family members and friends watching from the stands.
Travel sports allow passionate, talented players an opportunity to thrive in an elite, competitive environment.
Is travel hockey worth the extra effort and expense on behalf of the players and their parents? The answer generally comes down to how dedicated they are to the program.