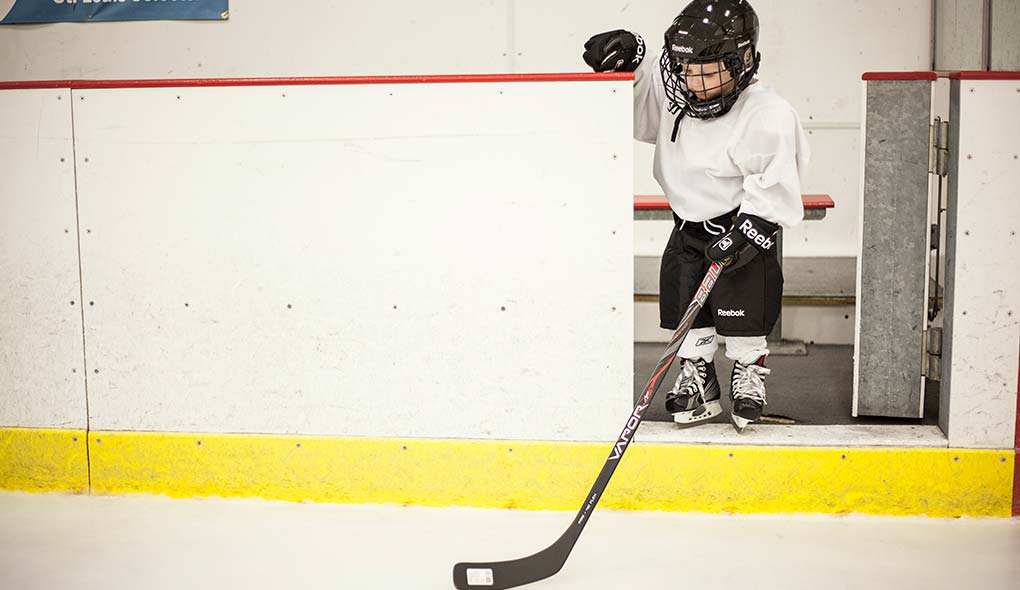 The lifelong benefits associated with providing opportunities for kids to learn to play hockey are immeasurable.
Hockey helps kids discover who they are as individuals and how they act within a group setting.
Ice hockey kids seem to experience a lot about life: They learn responsibility, teamwork, and respect for others.
And for both boys and girls, rewards from playing ice hockey begin at an early age.
How Old Does a Kid Have to Be to Play Ice Hockey?
While every young player is different, the average age to try out ice hockey is five years old. It's the age most local kids' hockey organizations begin competitive play. Some younger kids, though, are not quite ready to start in a league. There are several options for children of all ages to get a feel for the sport in a more relaxed setting.
A majority of hockey associations have programs such as "Learn to Play Hockey," "Learn to Skate," and "Try Hockey for Free." These events allow kids to experience the sport, learn the rules, and meet new friends. In partnership with the NHL, Pure Hockey offers a learn-to-play program, which is a great way for new-to-hockey families to get introduced to the sport. Any of these options gives a young newcomer the chance to see if they enjoy the sport enough to join a competitive association.
But know that it all depends on the child. Even some enthusiastic two- to four-year-olds, who already know the basics of skating and the rules, could gain early ice time by "practicing" with five-year-old teams, if local associations allow it.
While pondering when your child should start competing in a kids hockey league, consider beginning early, when all the players are at nearly identical skill levels. Also, when players start young, they likely will remain with the same core of boys and girls for years.
But know that it's never too late to allow your children to "lace 'em up."
Older kids could benefit mentally and physically from playing hockey. By attending public skating events, joining a local "Learn to Play" program, or skating in a casual game of pond hockey, youngsters could get a feel for the sport and gain confidence in their ability before dressing for a competitive squad.
Should My Kid Play Hockey?
Here are five compelling reasons your child should play hockey:
Hockey Health Benefits – Thanks to cell phones, video games, and various forms of social media, modern kids are not as active as previous generations of kids, resulting in a rise in childhood obesity. Skating is a proven exercise for anyone at any age, helping to enhance an individual's agility, balance, and leg strength. And skating speed—the fast pace of a hockey game—helps promote fitness by improving a player's endurance.
Overcoming Adversity – There is a lot of life in hockey. Getting scored against. Getting knocked down. Being called for a penalty. It's a sport of ups and downs, allowing second chances for players to make up for any previous mistakes on their next shift. Hockey also teaches players to work together and support their teammates.
Respecting Others – At the end of each youth match, no matter the score, players from both teams line up at center ice, shake hands, and congratulate each other for a good effort. That's an important life skill for every child to learn.
Being Part of a Team – Communication, encouragement, and passing are big elements of being part of a hockey team. The sport has proven to be an effective way for youngsters to learn about bonding and working together for a common goal.
Developing a Solid Work Ethic – With limited ice time to practice—most practices are about an hour—youth hockey coaches teach their players to skate hard, whistle to whistle. With little time to waste, players finish one drill and quickly prepare for the next.
Life isn't fair. But the ability to deal with sudden changes often helps individuals deal with life's ups and downs.
Hockey for kids gives youngsters a jumpstart to succeeding as adults.
How to Start Your Child in Hockey
The first step is researching different local minor hockey associations. Ideally, you'll find one that first divides players by age, and then, down the road, by skill level. In the early stages, coaches will focus on fundamentals like skating and puck-handling.
The second step is gathering up all the equipment needed to compete in organized hockey (and learning how to put it on), and then getting a handle on the equipment and other costs associated with enrolling your child in a program or league. Many learn-to-play programs provide hockey equipment, but here is a basic shopping list:
Elbow pads
Helmet/Cage
Hockey gloves
Hockey pants
Hockey socks
Hockey stick
Jocks or Jills
Mouthguard
Neck guard
Practice jersey
Shoulder pads
Shin pads
Skates
The final—and most important—step for beginning hockey parents is to remain patient and supportive during all the upcoming early-morning practices and busy weekends with tournament road trips.
The Benefits of Playing Ice Hockey
Hockey for kids pays personal dividends in a variety of ways, beginning with these five benefits:
Agility and Balance – Hockey helps kids learn balance and coordination as they learn how to skate in a variety of challenging on-ice situations.
Fueling Cardio Health – Constant skating helps fuel kids' cardiovascular systems, which supplies oxygen to the entire body. A sound cardio system also feeds brain growth.
Improving Mental Approach – Hockey players need to be sharp and quick on their skates. During games, they are constantly reacting to the flow of the puck, their teammates, and opponents.
Building Muscles – Playing hockey is a workout for players' arms, core, and legs. The strength training is constant and promotes muscle strength.
Communication Skills – Many of the kids your child starts playing hockey with will likely remain friends with them well into their teen years. Through practices and games, the kids will learn problem-solving skills while bonding to achieve common aspirations.
Starting your child in hockey may seem like a daunting challenge. Just remember, the journey promises to be rewarding.