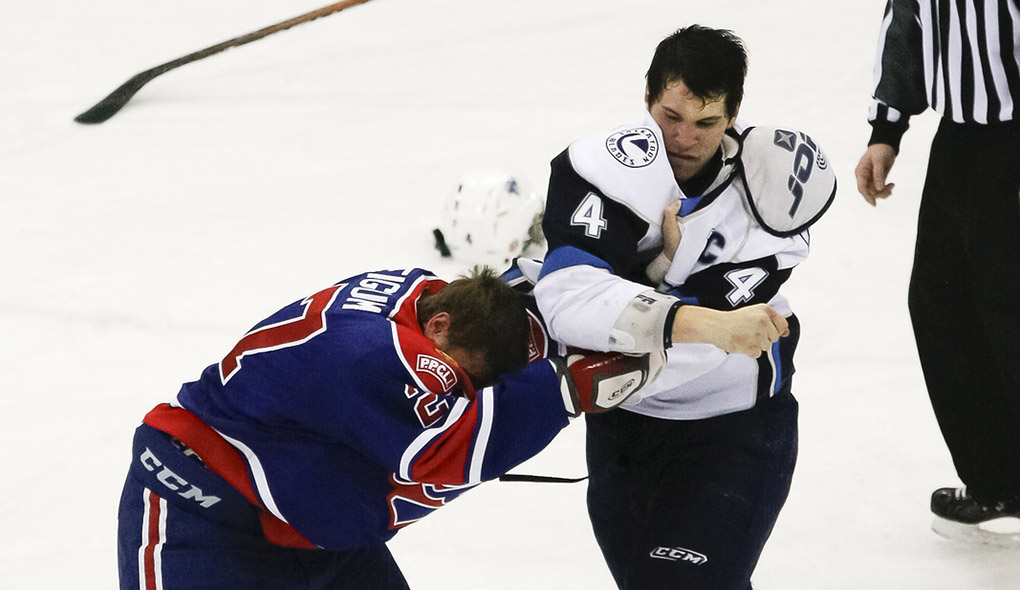 "Mr. Hockey" was on the verge of being arrested.
After brawling on the ice, Gordie Howe, the late Detroit Red Wings legend, and his opponent, New York Rangers tough guy Fred Shero, continued fighting in the penalty box.
Madison Square Garden police officers were summoned to break up the fracas.
Since the National Hockey League's inception in 1917, fighting has been necessary, serving as a way for players to police the action on the ice. Not to the extreme Howe and Shero carried it, of course, but without tough guys patrolling the ice, chippiness from both teams would consistently spin out of control.
Over the past four decades, the role of the 'enforcer' has dwindled. In today's game, they are virtually non-existent.
To combat the spread of all-out, full-line rumbles, which were becoming common during the 1970s, league administrators initiated new NHL rules. The "Third Man In" ejection amendment was implemented in 1977 and an "instigator" penalty was authorized in 1992 to deter players from provoking opposing players into fisticuffs.
Long-term health scares and a league-wide philosophical change contributed to a nearly 70 percent decline in fighting majors over the past decade.
Hockey Goons Need Not Apply
A generational talent, Howe engaged in numerous fights.
Revered for his versatile style of play, he often recorded a goal, an assist, and a fight in a single match. The effort became known as a "Gordie Howe hat trick."
The feat is nearly extinct in today's NHL, though, as general managers construct rosters with speedy, skillful skaters.
During the 2018-19 season, multiple fights occurred in just 24 matches. In 2017-18, 41 games featured multiple fighting majors. In the 1970s, there were heated games with fights each period. It was an era where fighting was a trait coaches looked for in a player.
Skilled, cost-efficient third- and fourth-line forwards have developed into coveted commodities. GMs with Stanley Cup aspirations work to possess deep rosters, allowing coaches to roll four lines.
Goons—"enforcers" on the ice—no longer need to apply.
Older generations of NHL fans may miss "the good ole days," when ex-heavyweights like Chris Nilan of the Canadiens, Tony Twist of the St. Louis Blues, and Bob Probert of the Red Wings came to the defense of teammates and dropped their gloves—to a giant roar of the crowd.
Enforcers had teammates to protect, ensuring cheap shots and liberties were not taken, especially to the top-line stars.
If one analyzes rosters over the first eight decades of the NHL, enforcers reserved at least one seat at the bench. They generally were not expected to score a conventional traditional hat trick—scoring three goals in a single game.
Their goal instead was to score a "Gordie Howe hat trick," and they usually drew the attention of referees and linesmen.
Salary Cap Casualties in the NHL
Modern analytics and salary cap accounting contributed to the diminishing roles of tough guys. But through the opening eight decades of the NHL, enforcers were needed to create an on-ice system of checks and balances. In previous eras, referees tended not to call as many penalties as they do in today's game. The NHL added a second referee in 1999 to catch penalties that were previously missed, like slashes and cheap hits behind the puck.
Goons were generally stationed at the end of the bench and available to take only an occasional fourth-line shift. Their mere presence, though, helped form a "game within the game" by keeping the skilled, offensive players on their skates.
Enforcers also worked to ensure their teammates had enough time and space to create plays.
Here are five of the NHL's toughest fighters:
Terry O'Reilly: One of the few grinders who produced on the offensive end of the ice. O'Reilly protected Boston Bruins icons such as Bobby Orr and Phil Esposito, collecting 606 career points, including 202 goals.
Chris Nilan: His nickname was "Knuckles" and he averaged more penalty minutes per game than any player in NHL history, 3,043 PIMs in 688 appearances.
Dave Schultz: "The Hammer" did just that. He hammered opponents. A member of the "Broad Street Bullies," Shultz established an NHL-record 472 penalty minutes in 1974-75 for the Stanley Cup-champion Philadelphia Flyers.
Tie Domi: The NHL's all-time leader with 333 fights was a well-traveled and controversial figure. Of all his fighting majors, one of his most well-known encounters came against a Philadelphia Flyers fan who fell into the penalty box.
Dave "Tiger" Williams: The NHL's all-time leader with 3,966 penalty minutes, it's a mark that likely will stand the test of time. Williams dropped his gloves 246 times during his career.
One-dimensional forwards are rare in today's game.
A new era of coaches and administrative personnel came to believe the best way to contend for a Stanley Cup was to give those final roster spots to skaters who generated scoring chances, not bruised knuckles.
During past eras, NHL enforcers patrolled the ice like sharks circling for a meal. They were feared. And respected. They were part of the game plan. When teams needed to alter the momentum of matches or needed to police the ice, they used enforcers.
Not much anymore, though, and it looks like more than a trend: Health scares combined with overall changes in how front offices construct their rosters will continue to diminish the role of fighting in the NHL.