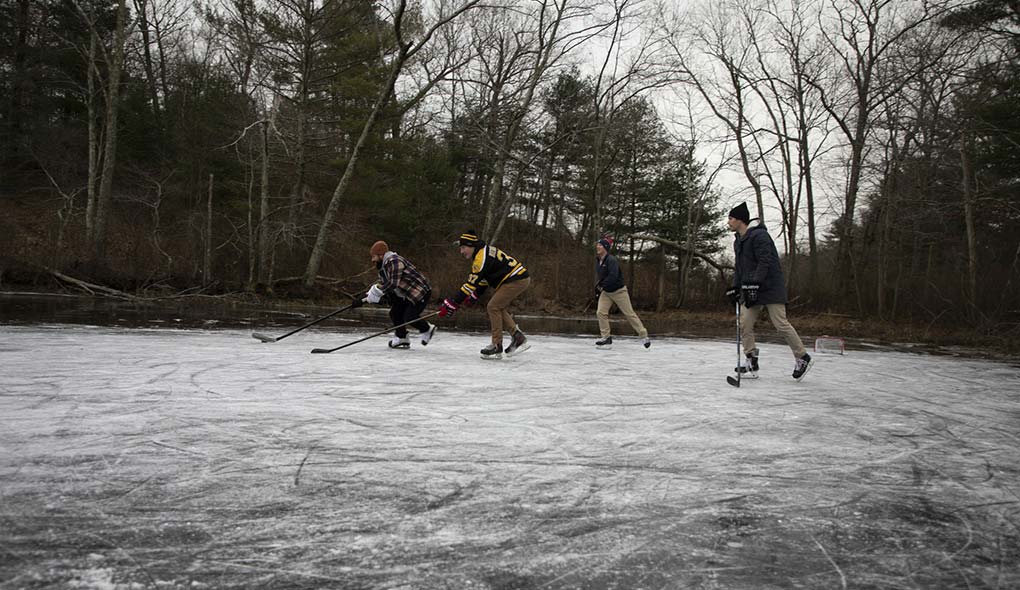 One hockey player arrives early and plops down on a bank of snow. A few minutes later, another friend shows up. Others follow.
The first few to lace up their ice skates grab a shovel and serve as human Zambonis, grooming the ice over the pond. Mounds of snow serve as wood boards circling the homemade rink and hockey nets are set up at each end.
The friends select teams and the sides line up. Two centermen, with their hockey sticks, hit the ice and each other's sticks three times and off they go, competing in their version of Game 7 of the Stanley Cup finals, proving once again that pond hockey is pure hockey.
How to Play Pond Hockey
For a majority of elite players growing up in the northern U.S. and Canada, pond hockey served as a rite of passage.
Playing with friends on frozen lakes and ponds, and man-made rinks at parks and in back yards, was the time most professionals, including "The Great One," fell in love with the game.
Considered by many to be the best NHL player of all time, Wayne Gretzky started dominating his companions in Brantford, Ontario, at an early age.
Years later, he recalled many of the joys of learning how to play pond hockey.
"You start to thaw and you've got your hands over the fireplace and your dad is rubbing your feet and you have tears in your eyes, those are the things you never forget about playing outside," Gretzky was quoted as saying. "Because the next morning you go out and do the same thing again. You love it, you go and do it. Some of these kids on the prairies in Manitoba and Alberta, my goodness, it would be 50 below zero and they're out there skating."
Pond Hockey Paradise
Pond hockey is the place where kids can play free, out of sight from critical eyes of coaches and scouts. It's a place where kids (and adults) can try that fancy spin-o-rama shot at the end of a breakaway without fear of suffering from a coach's wrath after returning to the bench. It's a place where goalies can skate as far out of the crease as they want. Heck, some have skated coast-to-coast and scored.
Current and former NHL players often reflect on their pond hockey experiences.
Just ask Darren Pang, a former Chicago Blackhawks goalie who currently serves as an "Inside the Glass" TV analyst for the defending Stanley Cup champion St. Louis Blues.
Growing up in Meaford, Ontario, Pang walked a couple of blocks to the local outdoor rink and practiced his skating and stickhandling skills. Free of his goalie gear, he pretended to be former Montreal Canadiens' great Yvan Cournoyer, the 1972-73 Conn Smythe Trophy recipient who finished his Hall-of-Fame career with 428 goals.
Pang often speaks of how lucky he was to grow up playing pickup games with several future NHLers, including Detroit Red Wings General Manager Steve Yzerman.
"And to think we were just playing for fun back then," Pang said in a 2006 interview. "Did we ever stop playing for fun?"
Pond Hockey Rules
Some pond hockey rules exist, but they vary from pond to pond.
While most of the basic regulations still apply, it's the players who generally form the rules of conduct.
Pond hockey matches can be unique:
Some games have goalies, some don't.
Some games allow body checks, some don't.
Some games will play 5-on-5. Some will play 4-on-4 and 3-on-3….
Some games may not have any rules at all.
Backyard pond hockey rinks will come in different shapes and sizes.
Pond hockey net dimensions and shapes will also vary.
It's all part of the innocence of pond hockey.
Here are eight examples of the official U.S. Pond Hockey Championships Tournament rules:
All players must wear helmets.
No slap shots.
When pucks go out of bounds, the last squad to touch it loses possession. When play resumes, the defender must be two stick lengths away.
Playing pucks above the players' waistline will result in loss of possession.
Saucer passes below the knee are allowed.
No off-side or icing calls.
Goals can result from shots anywhere on the ice.
Games will be played with two 15-minute halves, with a two-minute intermission.
Pond Hockey Safety
The biggest concern for parents is pond hockey safety, namely ice thickness.
To ensure the ice is thick enough, a drill with a long bit can be used to check different spots of the homemade rink. The Old Farmer's Almanac Safe Ice Thickness chart indicates 7.5 inches of ice is capable of holding a two-ton passenger car, and 15 inches can sustain 10 tons.
Other safety concerns center on kids wearing their pond hockey equipment along with layers of warm clothing to fend off chilly temperatures. On sunny days, sunscreen on the kids' faces is recommended because the sun's rays can be extreme reflecting off the ice surface.
Does Pond Hockey Ruin Your Skates?
The short answer is, it's possible. Debris such as sand and twigs could become embedded in the ice, causing nicks in the skate blades.
Also, the walk to the nearest pond hockey game could include sidewalks and parking lots, and without skate guards, blades will dull quickly.
Once friends line up to play, though, most don't quit until the sun sets, proving once again, pond hockey is pure hockey.