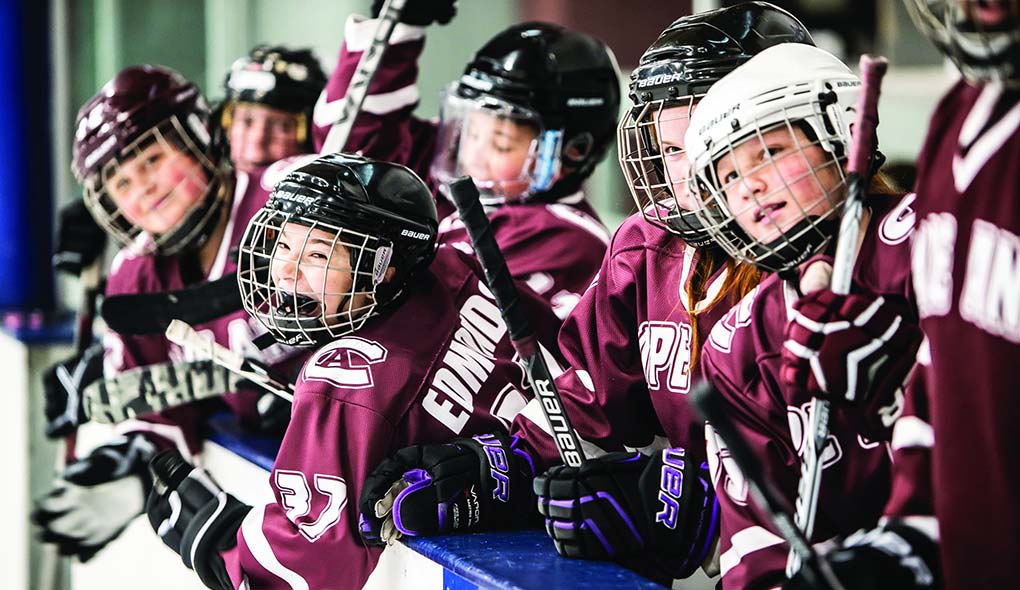 The answer to that question depends in part on what you're willing to spend. And you should expect to pay more for top-of-the-line hockey equipment for your child, as you would for other top-of-the-line products. Let's do the math.
First, a piece of advice about buying hockey gear for kids: start with the hockey bag. Expect to pay anywhere from about $30 for a basic youth hockey carry bag to around $150 for a fancier version.
Bags come in different sizes and styles. Some have wheels, others have a durable strap for carrying. The type of bag you buy is all based on preference.
What to Put in the Hockey Bag
OK, you bought your kiddo a hockey bag for about $70. Mom liked the choice, the one with wheels, but Dad, thinking of storage space, would have preferred the non-wheeled bag. Oh, well. The kid thought the wheeled bag was "cool."
Now it's time to fill it with the gear your child needs to compete in an organized youth league. Here's an itemized list with the average price you can expect to pay for each piece of equipment:
Elbow pads – $15
Helmet/cage – $65
Hockey pants – $35
Hockey gloves – $30
Hockey socks – $10
Hockey stick – $45
Jocks or jills – $20
Mouthguard – $14
Neck guard – $20
Practice jersey – $14
Shoulder pads – $25
Shin pads – $22
Skates – $50
So together with the $70 you plunked down for the bag, that's a grand total of $435.
Hockey Accessories
Here are some additional hockey accessories to throw into the bag:
First-aid kit – $20
Hockey tape (a lot) – $2
Skate stone – $5
Water bottle – $10
Towel – $8
If you're still doing the math, by now you should have arrived at a figure around $480.
Are There Extra Costs Beyond the Equipment?
Some of the other costs to play hockey include the cost of enrolling your child in a learn-to-play hockey program, which generally costs about $100-150, or joining a youth league.
Additional expenditures can include fees for ice time and travel expenses, such as gas, food, and hotel visits.
Public open skates could cost around $10 and professional lessons might run around $50. And organizing a pick-up match with family and friends could cost $20 per player to cover the ice fees.
When all of the shopping is finally finished and your child is set to suit up for the season-opener, first-time hockey parents can begin to look forward to watching them learn to grow.
How Much Does Goalie Gear Cost?
Goalies must learn even bigger lessons, considering their equipment—and goalie bags—are bigger.
As of last year, it was common for families to spend around $1,000 on essential hockey gear, purchased new. Here's another itemized list for goalie-specific equipment:
Arm/chest pads – $170
Blocker – $75
Goalie jock strap – $50
Goalie glove – $120
Goalie mask – $200
Goalie skates – $150
Goalie stick – $75
Leg pads – $160
Grand total: $1000, not including a specialized goalie bag, which costs between about $140 and $340.
How to Save Money on Youth Hockey
While purchasing all the gear individually can get expensive, starter kits for beginners are available at discounted prices. And depending on the program you choose for your child, the rink may provide some equipment.
You may also find some deals on used equipment, but for the best experience for your child, new equipment is the wisest choice. This is especially true of the hockey helmet, which comes with an expiration date beyond which the helmet is no longer certified as safe.
Consult our equipment buying and fitting guides to learn more about choosing the right hockey gear for your young player.
How to Play Hockey on a Budget
While expenses for travel clubs can add up over time, some associations cost significantly less, allowing nearly anyone interested in playing hockey an opportunity to participate.
Several NHL organizations offer budget-conscious programs such as "Try Hockey for Free," "Learn to Play Hockey," and "Learn to Skate." Partnering with the NHL, Pure Hockey runs a Learn to Play program for new-to-hockey kids that costs around $150, with some variation depending on the organization.
The Dallas Stars staged a "Try Hockey for Free" event in November 2019, allowing boys and girls aged 4 to 14 a chance to experience the sport. For most, it was their first time and all equipment was supplied free of charge.
The Boston Bruins are one of the teams participating in the learn to play initiative, designed to introduce the sport to first-time players. Weekly sessions are coordinated by certified coaches, and "head-to-toe" equipment is given to each registered child. The fee for the learn to play program will vary for each market.
The New York Islanders' "Learn to Skate" sessions start with First Steps and advance to Pre-Hockey to Basic Skills to Adult Basic Skills. Daily skate rentals are $5.
Carolina hosts the Polar Hurricanes House League, which promotes competitive hockey for a variety of ages and skill levels, without the elevated costs of travel hockey. The Hockey News reported a $300-500 registration fee for most house leagues.
For those who want to play without joining a league, an alternative is gathering up a bunch of friends for an afternoon of pond hockey, street hockey, or inline/roller hockey.
Here are the costs for some extra equipment:
Street hockey puck, $2
Inline skates, $75
Hockey can be fun and affordable for all.