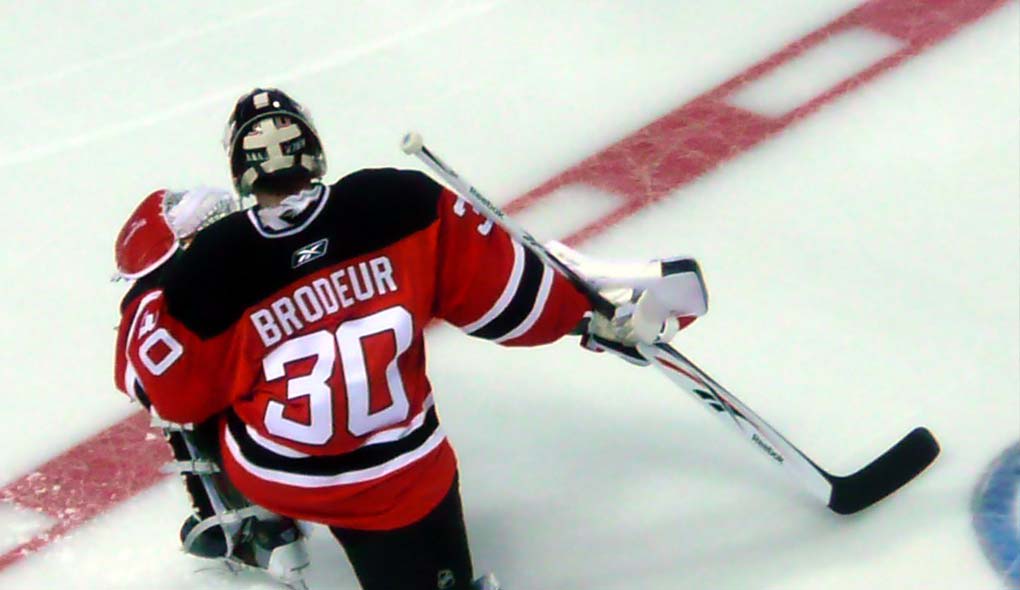 Hockey has a long, rich history of players doing extraordinary things, and the record books are filled with remarkable achievements. Most are impressive, some are amazing, and a few defy belief. Here are five of those records you might find difficult to believe if they weren't recorded in official sources.
1. Wayne Gretzky's Youth Hockey Scoring
Hailed by many as the greatest player in NHL history, Wayne Gretzky was turning heads long before he ever laced up for the Edmonton Oilers. His scoring record as a youth hockey player is simply hard to believe, especially when you consider that he was usually playing against kids three or four years older than he was. At age six, he joined a team composed of ten-year-olds, yet he was immediately the best player.
But the year that established his true phenom credentials—and got him exposure across Canada—was 1971-72, when he played for his hometown Brantford Nadrofsky Steelers as a ten-year-old. Over an 85-game season, young Wayne scored 378 goals and added 139 assists! That's an average of more than four goals a game and just shy of two assists per game. He was so prolific that fans of other teams started booing Gretzky because he was too good. Years later, fans of other NHL teams surely felt the same way.

2. Bill Mosienko's Blink-of-an-Eye Hat Trick
Netting three goals in a single game—aka, a "hat trick"—is an impressive achievement. Completing the feat in a single period represents a goal-scorer at the top of their game. Putting the puck into the net thrice in less than half a minute seems unthinkable. Yet, that's exactly what Bill "Wee Willy" Mosienko did in a game on March 23, 1952. The New York Rangers were cruising to a comfortable win over the Chicago Blackhawks, leading 6-2 in the third period. Then, it took Mosienko took just 21 seconds to turn a 6-2 advantage for the Rangers into one-goal lead. Mosienko's heroics spurred Chicago to a 7-6 win.
At 6:09 in the third, Mosienko slotted one along the ice past the left pad of New York goalie Lorne Anderson. He then did exactly the same thing just 11 seconds later. Incredibly, 10 seconds after that, he found himself in front of goal again. This time, he went high to the right to complete the hat trick. Mosienko had not only broken the record for fastest three goals by a single player (which had been 1:04), but he'd beaten the record for the fastest three goals by an entire team (0:24).
3. Bobby Orr's Plus-Minus Season
Plus-minus—which compares goals scored versus goals conceded when a player is on the ice—is one of those statistics to which many fans don't pay much attention. But Bruins defenseman Bobby Orr finished the 1970-71 season with an amazing +124. Meaning, during Orr's shifts, the Bruins scored 124 more goals than they gave up. Only one player—Larry Robinson of the mighty Montreal Canadiens of 1976-77—has come close, with +120. Wayne Gretzky, who finished +100 in 1984-85, is the only other player to even hit the century mark.
It certainly helped that Orr himself scored 37 goals and had 102 assists—still the record for most assists by a defenseman in a season. Perhaps even more impressive than his incredible single-season record is that, over his injury-plagued 12-year career, Orr's per-game plus-minus is +.89. He played in 657 games, and ended up with a +582. (Robinson, the all-time plus-minus career leader with +722, played in more than 1,300 games, for a per-game +.52.)
4. Martin Brodeur's Career Hat Trick
Hall-of-Fame goaltender Martin Brodeur holds numerous NHL Records, including most regular season wins (691) and shutouts (125). But he also was known for both scoring and creating goals for his team, the New Jersey Devils. Brodeur is the only NHL goalie in history to be credited with three goals. In addition, his 45 assists rank him third all-time among netminders.
Two of Brodeur's goals were actually own goals, that members of the other team shot into their own net. But since Brodeur was the last player on his team to touch the puck, he gets credit. The only time he actually shot the puck into the opposing net was during a playoff game against the Canadiens in April, 1997. Montreal had pulled their goalie and dumped the puck into the zone. Brodeur collected the puck behind his net and sent a shot right down the middle of the ice for the goal.
5. Randy Holt's Plethora of Penalty Minutes
A hockey period is 20 minutes long. So how did Randy Holt of the Los Angeles Kings amass a shocking 67 penalty minutes in a single period in 1979? Known as the toughest guy on the Kings, Holt was ready for some physical play when his team traveled to Philadelphia to face the notoriously rough Flyers of that era. And he wasn't disappointed: After receiving a minor penalty early in the first period, Holt dropped the gloves with Philly's Frank Bathe at 14:58. That battle earned him 20 minutes of penalty time. When the period ended, Holt kicked off a bench-clearing brawl just to get a shot at the Flyers' Ken Linseman, against whom Holt held a grudge from an earlier cheap shot. When the dust cleared, Holt was assessed another 45 penalty minutes—including a triple game misconduct. The final tally: 2+20+45=67 minutes of penalties before the start of the second period!