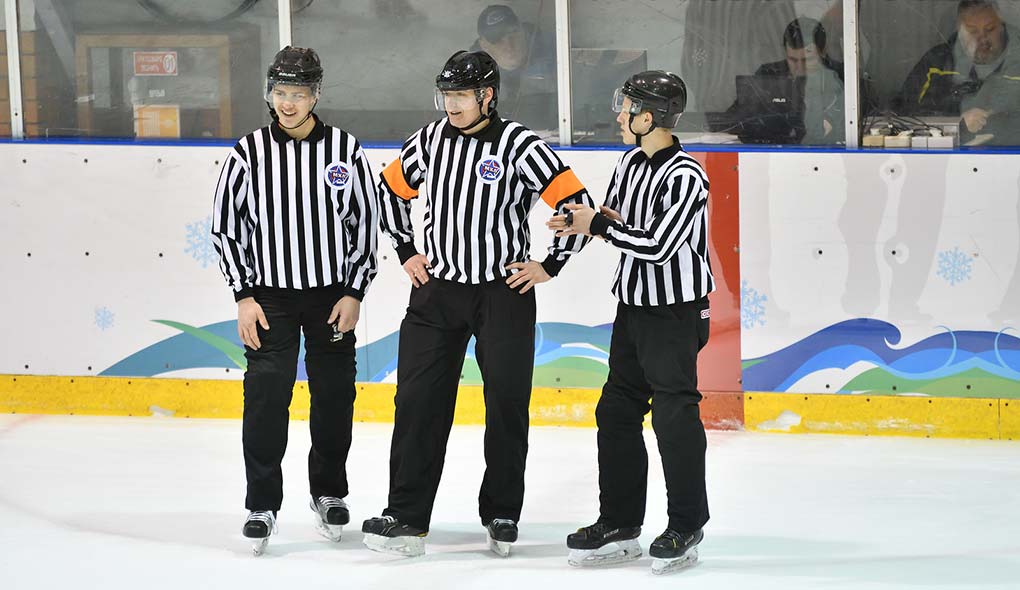 There's an old saying in sports: "People who can't play, coach." Ouch—that has a bit of a negative ring to it. But in hockey and many other team sports, coaching may come later. When you're not actually playing and you don't want to be on the sidelines, you can always referee. This doesn't mean you've lost your touch or aged out of the game. Quite the contrary, being a ref is a way to give back to the sport and to set an example for others to follow. It's also a great way to actively participate in the game, stay in shape, and make some pocket money. Or more than pocket money, if you set your sights on college, elite amateur leagues—or even the National Hockey League.
How Much Does Hockey Reffing Pay?
If you view being a hockey referee as a means to make a good living, then you have high aspirations, and like a professional anyone, you must be the best of the best. A referee in the NHL can clock about $400,000 (very much the absolute high end) and a linesman about $150,000 to $200,000-plus. Know that this lifestyle involves lots of travel—and lonely nights on the road in maybe not the best of hotels—and total mastery of the rules that govern on-ice management. You must be as fit (or moreso) than the NHL players—and you must have supreme confidence in your game-calling skills.
A head referee is probably one of the fittest skaters on the ice. There are no shift changes, and keep in mind that the game is continuous and you have to cover all the action. A linesman needs the same skills but is not as mobile as the referee. It's a matter of aspirations and proving your skills—in other words, just like playing and aiming to advance into higher league play.
The truth about professional sports is that it's a system of meritocracy—a system of rewards based on your talent—but sometimes it's an autocracy, in that one person (a coach or a head referee or a committee operating jointly) may likely decide if you make the cut. Those referees talented enough will rise to the top and be recognized. Others are right for rec leagues.
Refereeing Options Outside the NHL
Certainly, you'll have lots of refereeing options other than the NHL. But the pay will be quite a step down. What did you expect? The NHL is the high-water mark for players and those associated with play, such as officials and administrators; college is amateur; referee pay in semi-pro or club hockey can vary widely.
According to sources, reffing NCAA Division I college games averages about $400 per game and about half that for linesmen, less for lower divisions. With sanctioned USA Hockey games, you're probably looking at about $27 or so an hour; the pay scale for refs in club hockey might depend on whether the league charges admission to games, and its overall budget structure.
Essential Hockey Reffing Skills
To be a hockey ref takes game experience and commitment. You need a deep understanding of the game and the rules. So in truth, you evolve into a hockey official. Yeah, the thrill of scoring or being an integral part of the winning team compels us to compete in hockey; but being a ref continues our full-throttle involvement in the game, only more as a participant-observer than a player—though you're skating as hard as the players, and without line-shift breaks. And heck, who doesn't look cool in a zebra-striped hockey jersey (or sweater)?
When Did the Zebra-Striped Referee Sweaters Become Standard?
Zebra-striped sweaters became standard issue in 1955. But before the NHL, referees were much more formal and nattily dressed, wearing suits and derby hats—which certainly set them apart from the players! Later, NHL refs wore white sweaters and then orange tops—fine for when spectators were watching a game in person. When NHL games were televised starting in the 1950s, viewers often couldn't tell the referees from the players on their black-and-white televisions. So in December 1955, NHL officials solved that problem—by having referees wear black-and-white, vertically striped sweaters. (A style that probably was borrowed from U.S. college football.) NHL referees now also wear an orange armband, to distinguish them from linesmen.
By the way, two referees and two linesmen work NHL games, with the referees responsible for calling on-ice play penalties and goals and the linesmen call line infractions, such as icing.
How to Get Started as a Hockey Referee
Your first step in becoming a hockey ref is to contact the USA Hockey-sanctioned Referee-in-Chief closest to your geographic area, and registering as a hockey referee. USA Hockey is the governing body overseeing organized hockey in the U.S. The organization was founded in 1937 in New York City and is now based in Colorado Springs, CO, largely focused on grassroots hockey and grassroots-player development. It also registers refs and offers referee training and teaching support.
There are no age restrictions—anyone can ref. You will need the proper reference materials—USA Hockey Rules and Casebook—and USA Hockey will send other preliminary info, as well, after you register with the group. Canada has its own hockey governing body.
Consult the Pure Hockey Resource Center for more on how to become a hockey referee.
Hockey Referee Training Assistance
Being a ref is challenging physically and mentally. As you keep pace with play on the ice, skating hard to maintain a clear view of the action, you must also make quick or even instantaneous decisions. Plus, you have to remember the rules of the game and the responsibilities of a ref: You must act confident and be decisive, communicate well, and shoulder many other responsibilities. There's a lot going on—you're an official, an authority figure on the ice. Embrace it, but know you don't have to master all these skills alone. Except for the physical fitness part—only you can get in shape and stay fit.
But the craft of being an official is something for which you can receive training: Official "officials" camps—training camps for hockey referees—are available. Some are staffed by current or former National Hockey League personnel. You cover more than rules at these schools—officiating skills that are taught during these sessions include on-ice positioning, skating skills, signals, penalty calling, plus off-ice sessions provide strategies through classroom presentations, and more.
You're basically going to ref school. And why wouldn't you? If you aspire to being a conduit to skills development and adherence to hockey rules, players need to learn from someone like you. Another option is to seek out an experienced mentor, possibly a ref you know and respect. This person can answer questions and help guide you along your official officiating path.
Start Dropping the Puck
We mentioned earlier there are no age limits on being a hockey referee—young or old! So this challenging, rewarding work (sometimes involving dropping the puck for faceoffs—no doubt USA Hockey teaches that in training) will keep you involved in hockey for the rest of your days, or at least for as long as you can skate.
And as you accumulate experience working games, you'll become part of a vital hockey network, always giving back to the sport you love.