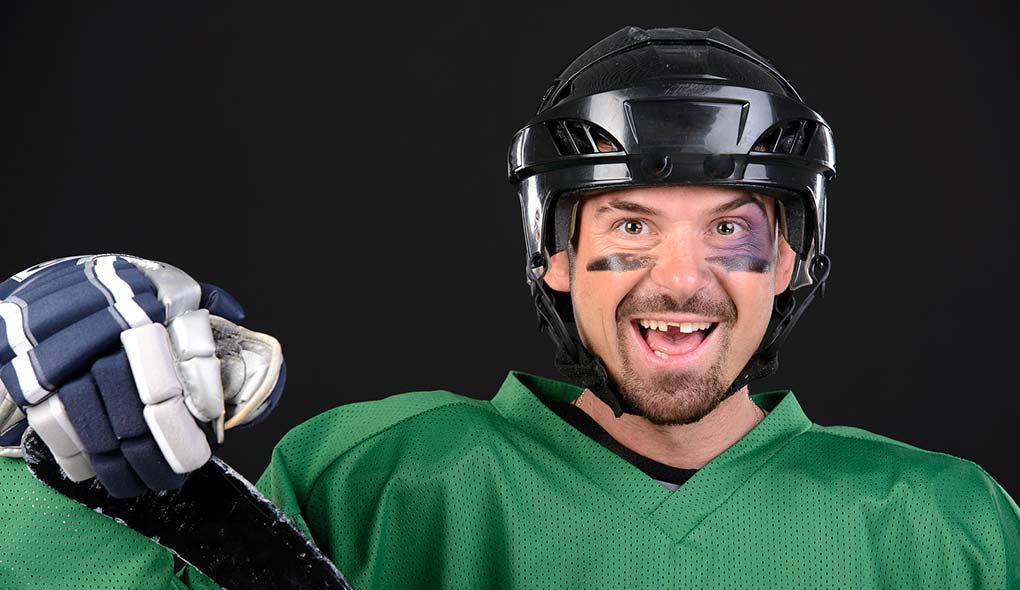 Since 1917-18, the National Hockey League's inaugural campaign, countless hockey players have suffered severe facial injuries. Some skated away from them. Others had their careers shortened because of them.
While it took decades for leagues to adopt rules to better protect skaters, hockey visors, cages, and facemasks are essential protective equipment today, and continue to evolve with advances in performance technology.
The Hockey Visor
Also known as a face shield, a hockey visor covers the top half of a players' face, protecting the eyes.
Since 2006, all players in the American Hockey League (AHL) have been required to wear visors. The NHL started enforcing its version of a visor rule in 2013 for anyone entering the league with fewer than 26 games' worth of experience.
Through October 25, The Sports Network reported only 19 of 672 skaters who appeared in an NHL game this season are playing without visors.
Hockey Visor Pros
Visors Offer Prime Protection – The most important aspect of the hockey visor remains the protection it provides against errant sticks, skates, and pucks.
Visors Air It Out in Comfort – Hockey visors allow air to flow, keeping players' heads cool, and they're comfortable for most skaters.
Visors Allow Optimal Sightlines – Hockey visors provide skaters optimal visibility on the ice, with limited blind spots.
Hockey Visor Cons
Visors Can Get Foggy – One of the biggest player complaints about hockey visors is that they tend to fog up when skaters are seated on the bench, impeding visibility until they're wiped clean.
Visors Scratch Easily – Scratching blurs a player's sightlines.
Visors Leave Areas Exposed – Hockey visors are designed to cover a player's eyes and nose, but leave the jaws and teeth exposed. Dentists are big fans of visors, eh?
The Hockey Cage
Consisting of metal or composite mesh, a cage is one of the most popular forms of hockey face protection in the amateur ranks.
The cage's bars are spaced wide enough to allow skaters a view of the action, yet close enough to deny sticks and pucks from injuring any part of a player's face.
Hockey Cage Pros
No Fogging Up or Scratching – Often considered the best available face protection, hockey cages remain a popular option because, unlike visors, they won't scratch or fog up.
Stylish Cages – Cages come in several colors, enabling players to color-coordinate them with their uniforms. White remains one of the most popular colors because skaters tend to believe a white cage makes it easier for them to locate the black puck.
Hockey Cage Cons
One Cage Design Does Not Fit All – Some hockey cages are not as versatile as other forms of face protection because not all cages are compatible with all helmet brands.
Cages Can Be Cumbersome – While the protection is undeniable, some skaters have trouble seeing the puck clearly through the bars, and others find hockey cages heavy and cumbersome.
Cages Are Not That Comfortable – Some skaters don't feel comfortable wearing a hockey cage, and others have difficulty snapping them into place while wearing hockey gloves.
The Full Shield/Hybrid Shield Facemask
A full/hybrid shield facemask offers skaters the combined protection advantages of the visor and cage.
But unless professional players are under doctor's orders to protect their faces, full shields are not allowed in the NHL and AHL, North America's two top leagues.
Hockey Full Shield Pros
Full Shields Vary in Style – Hockey full shields may not be for every skater, but they are offered in a series of styles and shapes.
Hybrid Shields: A Breath of Fresh Air – Full hockey hybrid shields possess clear areas in front of the eyes for improved vision, and vents near a player's mouth for better breathability.
Hockey Full Shield Cons
Full Shields Are Not Fresh – Like hockey visors, a hockey hybrid shield is prone to scratching and its design makes it difficult for a player to wipe the sweat from their face or to take a drink of water. Like hockey cages, hybrid shields also are difficult to snap on while wearing hockey gloves.
Hybrid Shields Put Players in 'Bubbles' – While hockey full shields offer face protection similar to a cage, steam tends to fog up the full shield, and some skaters complain the 'bubble' is too hot.
Full Shields Provide Little Air – Hockey full shields are designed with jawline air vents, but a reduced amount of airflow often fails to cool a skater's face.
The Hockey Facemask
During an NHL game on November 1, 1959, ex-New York Rangers goalie Jacques Plante executed an unorthodox save, the puck striking him squarely in the face.
It wasn't long after this incident that Plante created the first goalie mask.
Initially, he was ridiculed by players, media, and fans. But once other goalies began realizing the health benefits, Plante was revered for his foresight.
Hockey Facemask Pro
Facemasks Offer Essential Protection – Considering goalies often flop around the crease to turn aside hard rubber pucks traveling at speeds more than 90 mph, hockey facemasks are a must.
Hockey Facemask Con
Face Masks Have No Alternatives – The hockey facemask, also known as a goalie mask, does not have any downsides, especially if one considers the overall health and welfare of goalies.
It's up to the skater as to which form of hockey face protection they elect to attach to their helmets. The important thing is choosing a type of shield that best fits their style of play.
Face Protection Legacies
When it comes to hockey face protection, Kenneth William Clay is not a household name.
A former player for the Cariboo Hockey League's Vanderhoof Bears, Clay does not have his name etched on the Stanley Cup; in fact, he never dressed for an NHL game.
But Clay played an important role in the history of hockey safety. Clay created the first clear hockey visor in 1964 after he lost his left eye to a high stick.
The next major step in the visor's evolution came when Greg Neeld, a former junior defenseman and Buffalo Sabres draft pick, became the first ice hockey player outside of goalies to wear a facial shield during a game.
Neeld decided to make the move after he lost his left eye while playing in a game for the Ontario Hockey Association's Toronto Marlboros on December 7, 1973. The incident occurred when Kitchener Rangers defenseman Dave Maloney inadvertently high-sticked Neeld in the face.
The news of Neeld's injury reverberated throughout all levels of ice hockey. Seven years later, a rule was passed in Canada mandating all players in the junior ranks to wear hockey face protection.
Since the groundbreaking rule, most leagues of all levels in the United States passed rules to require skaters to attach a hockey visor or hockey shield to their helmets.
A top NHL prospect at the time of his injury, Neeld was selected 71st overall by the Sabres in the 1975 Amateur Draft, despite possessing sight only in his right eye.
At the time, the NHL enforced a rule stating that players must have sight in both eyes. Sabres officials attempted to have the restriction amended, allowing Neeld to compete, but ultimately failed.
Also in '75, Neeld was drafted 41st overall by the Minnesota Fighting Saints of the World Hockey Association (WHA). Later that season, Neeld, donning a visor, appeared in 17 professional games, registering one assist and 18 penalty minutes.
Neeld played the final three seasons of his professional career in obscurity, competing in the International Hockey League (IHL) and North American Hockey League (NAHL).
While the careers of Clay and Neeld never took off following their injuries, their legacies live on.