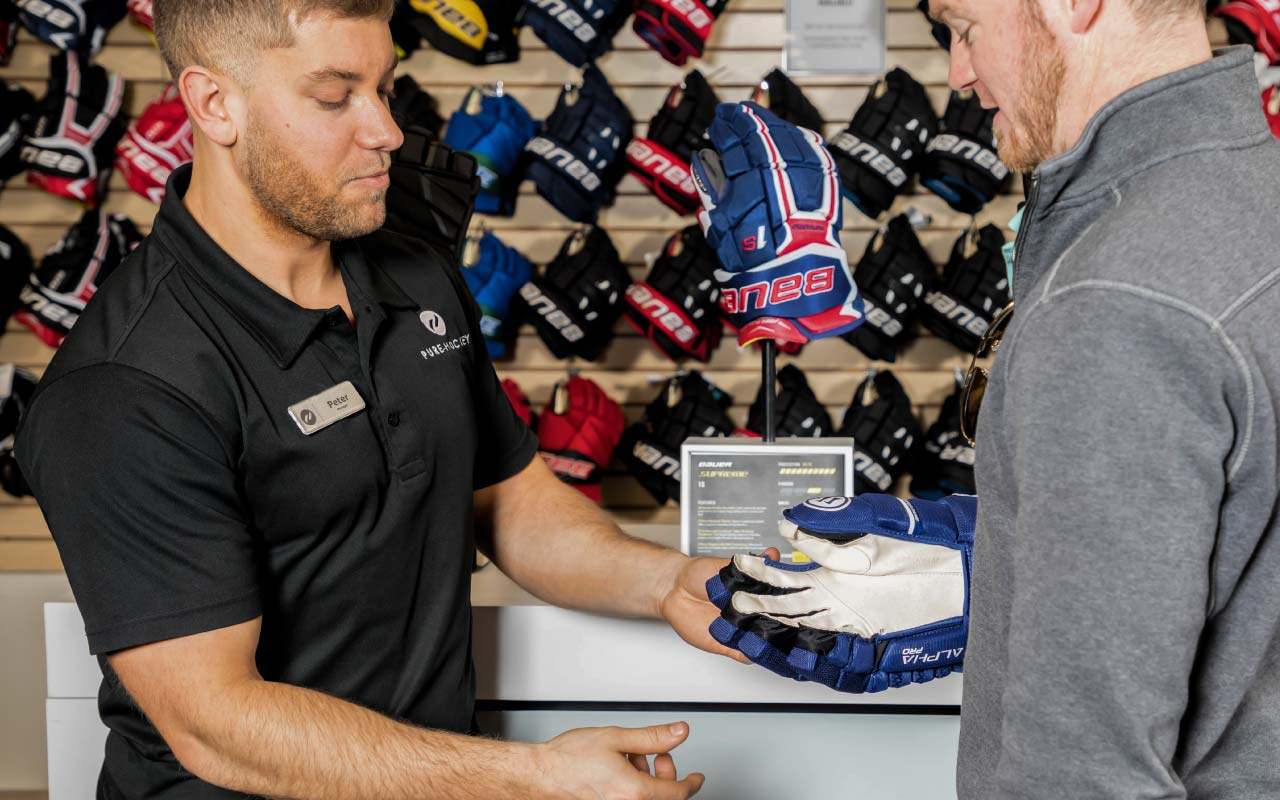 Unfortunately, there's no standard lifespan for hockey mitts. If you're a parent, you can expect to replace your child's hockey gloves about once a season—maybe every other season—to keep up with his or her growth. If you are an adult player, your current gloves may last five years or they may need replacing after five months.
The main reason ice hockey gloves need replacing is palm wear. There are a variety of other reasons, too—they loosen over time and don't perform the way you want, they get torn, they exude an unbearable level of hockey stink, etc., but palm wear is the main and most common reason to replace your gloves.
What is a Hockey Glove Palm Made Of?
Back in the day, hockey gloves were made of high-quality leather—they took months to break in and years before the leather broke down. Today's glove palms are not typically made with real leather—they're usually made with a combination of nylon and synthetic leather with names like Nash and Clarino. Many glove manufacturers strategically double the layers of material in the high-wear palm areas in some models. And while there's a significant difference in palm quality between inexpensive and premium gloves, neither Nash nor Clarino is as durable as natural leather. These faux leathers imitate the look and feel of suede—they're soft, comfortable, pliable, and offer a great stick feel. The downside of all this comfortable palm pliability is they're prone to wearing out faster than many players would prefer.
While the backhand of your gloves will show wear in the form of scuffs, small tears, split seams, and protruding padding—none of which requires glove replacement—the palm typically shows the most wear and can be a game changer if the damage is significant.
What Causes the Holes in My Hockey Mitts?
A combination of pressure from the fingers and friction from the stick causes gloves to develop holes in the thumb, fingertips, and palm. And if you're one of the many players out there who does not dry their gear between games or practices, you're very likely contributing to the speedy breakdown of your gloves due to bacteria buildup. A quick hit with an antimicrobial deodorizing spray is advisable after every session, as is the use of an equipment rack for drying.
Grip tape is another culprit for premature hockey glove breakdown. Anecdotal evidence suggests that coarse or extra sticky grip tape will cause hockey glove palms to wear quicker than normal. There are many different grip tape options on the market—find the one that provides the grip you like, but isn't so tacky it's damaging your hockey equipment.
Repalming vs. Replacing Hockey Gloves
Some players are afflicted with a severe case of GAS—Gear Acquisition Syndrome—and will take the opportunity to bring home a new pair of gloves (or any other piece of hockey equipment) at the first sign of wear. If you are a little more cost-conscious, and if you really like the fit and feel of your hockey gloves, repalming them might be a smart option.

For a reasonable fee, you can purchase replacement palms and have a local tailor or seamstress remove the old palm and stitch on the new one. You can also send your gloves away and have the job done. Obviously, if you play regularly, sending your gloves away for a week or more may not be optimal.
One downside to purchasing hockey glove replacement palms is the glove fit may be altered upon return. The new palm will not be broken in and the glove may be tighter in areas that previously fit perfectly.
You can also purchase hockey glove palm repair kits and try to do the job yourself. Some popular kits come with a piece of palm material that you cut to size, peel from the backing, and then apply like a sticker. Granted, this isn't a long-term fix, but it can get you through the next few games or until you're ready for a permanent solution.
How Long Should My Hockey Gloves Last?
A lot depends on how often you play. If you play six hours a week, your gloves are likely to wear out much more quickly than if you play six hours a month. If your child plays hockey, you can expect to buy him or her new hockey gloves every season or two. If you're an adult, the signs will be obvious. The good news is, gloves are still functional even with moderate amounts of wear in the backhand and palm. If the palm is brittle or full of holes, you can take steps—like repalming your gloves—to forestall buying a new pair, until the entire glove needs replacing in earnest.
Some hockey gloves are made with replaceable palms. For example, TRUE Hockey offers the Z-Palm replacement for select glove models, featuring different constructions to suit different styles of play.
Are you new to hockey or buying a pair of hockey gloves for a child? Make sure to visit our Hockey Resource Center and read our hockey glove guide for the information you need before making your purchase. We carry a wide array of ice hockey gloves for players of every age and every level of play, and our Low-Price Guarantee promises the best deals available on gloves.