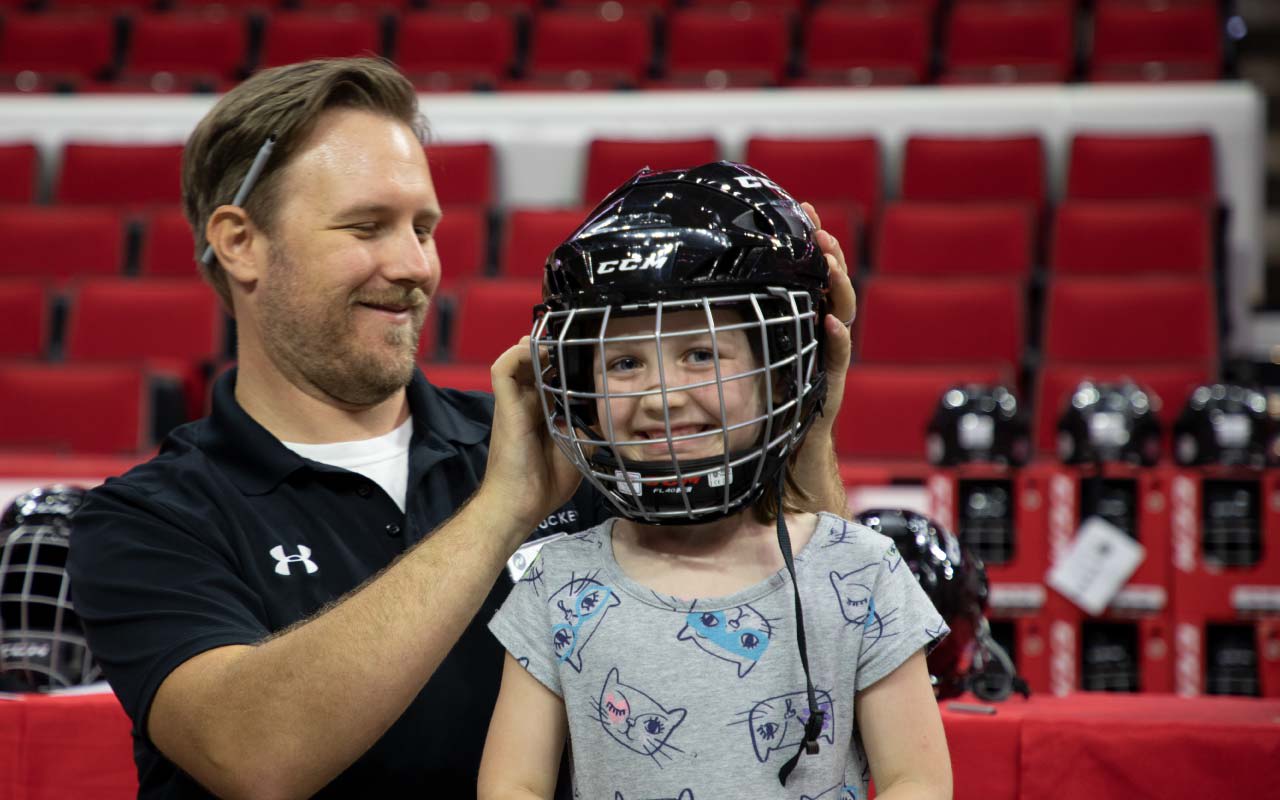 Your ice hockey helmet isn't going to last forever. If you're a hockey parent, you probably know how quickly a growing player goes through new gear. If you're an adult novice player, though, you may not know that hockey helmets expire: just like your gallon of milk, your hockey helmet has an expiration date after which you should purchase a new one.
Why Do Ice Hockey Helmets Wear Out?
Repeated impacts over time reduce the protective quality of your hockey helmet. The shell may be cracked or the padding may be worn to the extent the helmet doesn't fit properly—and any helmet must fit as perfectly as possible. You can replace broken chin straps and bent cages fairly easily, but when a major protective element of the hockey helmet sustains damage or is significantly altered due to impacts or extended use, it's time to replace it.
What Are Hockey Helmets Made Of?
The core of any helmet is impact-resistant plastic and a variety of high-performing foams. The shell, internal foams, and liner are designed to absorb, dampen, and disperse impact energy and to reduce the damaging effect of head blows. Some high-end helmet shells are even designed to rotate independently of the liner upon impact to enhance energy dispersal. Hockey helmet technology is always improving, and the high-tech helmets of today make those of yesteryear seem like rotary phones.
Who Put the Expiration Date on My Hockey Helmet?
The Hockey Equipment Certification Council (HECC) certifies all hockey helmets and components for eye and face protection. They're the folks who put the certification sticker on your new hockey helmet. The HECC certification lasts for 6 ½ years from the date of manufacture. Most youth leagues, players under the Federation of High School rules, and players in the NCAA must have HECC-certified helmets with cages.
Can My Ice Hockey Helmet Be Reconditioned?
The Centers for Disease Control and Prevention (CDC) suggests your old helmet can be reconditioned by a licensed member of the National Operating Committee on Standards for Athletic Equipment (NOCSAE). Reconditioning your helmet requires having a NOCSAE expert inspect and repair or replace damaged or missing parts. This option makes sense for organizations that provide helmets to players where the purchase cost of multiple new helmets would be prohibitive.
Do a little research to determine if this option is cost effective for you. After shipping and repairs, it may make more sense to simply purchase a new helmet.
Consider carrying a hockey helmet repair kit in your equipment bag. Helmet repair kits typically come with essential screws, nuts, replacement straps, buckles, and a tool. They're a lot easier to deal with than carrying a second helmet, and you can handle most jobs in a matter of a few minutes.
What About Used Hockey Helmets?
You'll see hockey helmets for sale all over the place. But is it wise to buy a used hockey helmet? While it can make financial sense to purchase used pads, used helmets are another matter. You simply never know what damage the helmet has sustained, even if the helmet comes with "assurances" and "guarantees." There may be no visual indication a helmet is about to fail; unless you are buying a new helmet, you are taking a risk.
Head safety isn't something to toy around with. Protect your child's head and brain (or your own): if you have any doubt at all about a helmet's ability to provide anything less than total protection, it's time to act. Check the HECC date on the helmet. Inspect its padding. If you're not happy with what you see, Pure Hockey has the right helmet for you.
Are you new to hockey or buying a helmet for your child? Click over to our Resource Center for informative buying and fitting guides—including how to buy a hockey helmet. Pure Hockey carries a wide selection of helmets at a variety of price points for players of every age and at every level of play. And our Low-Price Guarantee promises the most competitive deals available on all our hockey helmets.