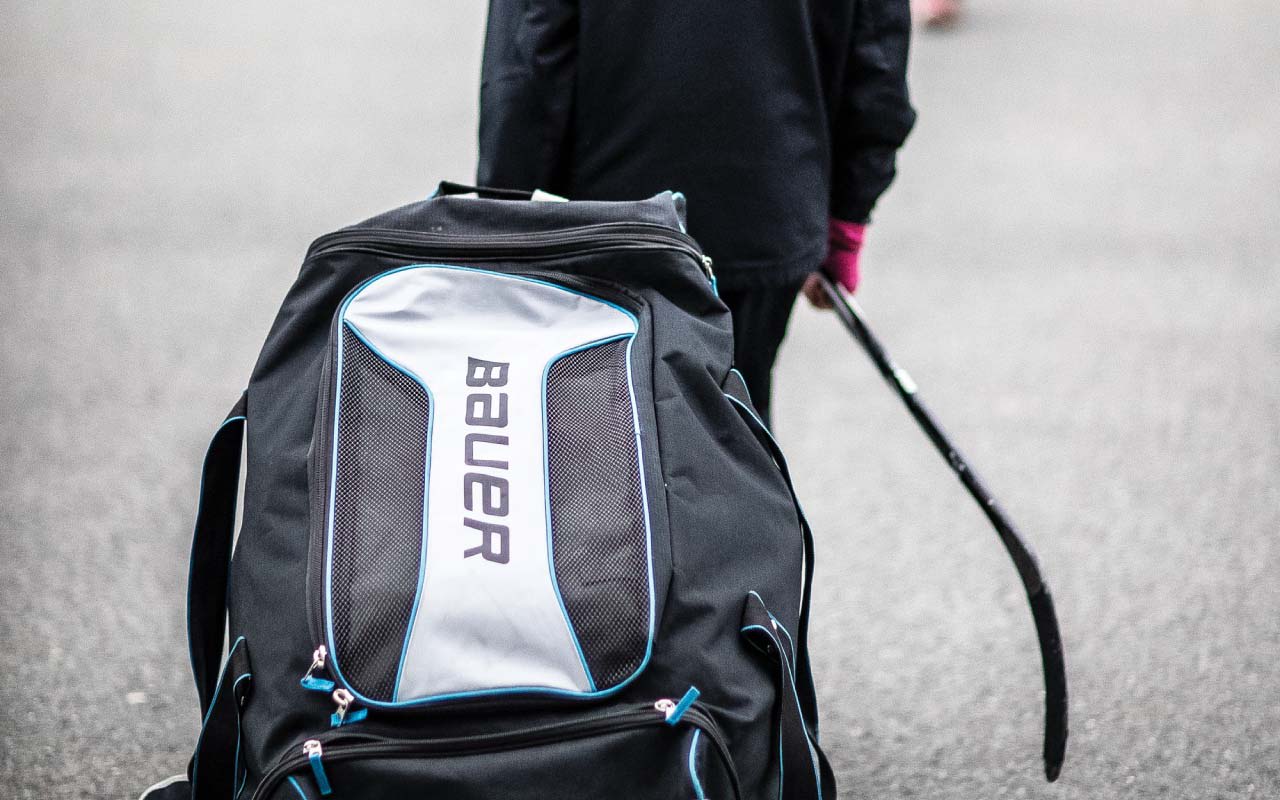 Your hockey equipment bag is one of the most important pieces of gear you own. It carries your skates, helmet, and pads, but it's also home to all the hockey accessories that can be critical to keeping you on the ice and off the bench.
Essential Accessories to Carry in Your Hockey Bag
Hockey Tape and Scissors
How many times have you been in the locker room and heard, "Who's got some clear?" Don't be the guy who is always using someone else's hockey tape. Cloth tape—usually in white or black and also called "stick tape"—gives you extra grip on the blade. Clear tape is used to hold up your socks and secure your shin guards more tightly. Both are necessities for just about every player. And a small pair of tape scissors makes dealing with tape much easier.
Skate Laces
There's nothing worse than breaking a lace right before you're about to hit the ice. Laces get nicked by skate blades and sticks and will break eventually, but you can be ready with a spare pair of waxed and/or unwaxed skate laces. You'll be happy you have them when the time comes. Keep a lighter in your hockey bag, too: it can help you manage frayed ends to make lacing up a lot easier.
Honing Stone
A honing stone is a smart addition to your hockey bag. You probably already know that the guys who design hockey rinks didn't take your skate blades into consideration. Long stretches of concrete, even beneath the bench, will wear your edges. Avoid blowing a tire at a critical moment in the game: a honing stone doesn't replace a proper skate sharpening, but is an excellent on-the-spot resource for smoothing out burrs and rebuilding your edges on the bench. A honing stone is also a handy tool for those who live far away from the skate shop and can't easily have their skates sharpened professionally.
Skate Guards
Not only do skate guards prolong your blade life, but they also save the rest of your hockey gear (including your gear bag) from being torn up and sliced by your skate blades. They're a smart investment.
Hockey Helmet Repair Kit
Helmets get banged around a lot, whether that's in your bag or during the game. Screws loosen and disappear. Chin straps fail. A helmet repair kit is a useful addition to your bag. Many kits come with basic helmet hardware, like replacement screws, but some kits are flush with buckles, straps, screws, and usually a screwdriver. If you forego the kit, spare screws and a screwdriver or multi-purpose tool—like a Swiss Army knife or Leatherman™—are handy hockey bag essentials.
Replacement Skate Blades
Whether they're simply worn beyond use or suddenly damaged, you'll eventually need replacement skate blades. A spare pair of skate runners is an excellent item to carry in your bag, especially if you skate a lot.
Some manufacturers, like Bauer and CCM, use release systems on their higher-end skates so players can swap their blades on the bench in seconds. Bauer uses Tuuk's Lightspeed Edge holder which employs a trigger release. CCM has recently introduced their new Speedblade Xchange System which also allows for fast blade replacement.
If you don't own a pair of skates with removable blades, you'll need the right tools—usually a socket and wrench. Many skates come with the necessary socket extension.
Hockey Pucks
If you're usually the first player on the ice—and even if you're not—spare hockey pucks are always useful to have. You can't play shinny or run a stick-and-puck session without one. Carry two or three and get the action started.
Water Bottle
A good water bottle is a must-have accessory. You're going to sweat a lot and you need to replenish all those lost fluids. Squirt bottles work well, especially if you wear a cage. You'll want a bottle that can deliver from a distance, too, for teammates who'd like a squirt from yours. It's nice to share, but keep the germs at bay with a rugged, non-leaking squirt bottle.
Hockey Equipment Care
Keep your gear smelling fresh by airing it after every practice or game, and using equipment care products to knock down bacteria. This is particularly true for your gloves—but any piece of gear that gets damp from sweat will benefit from a quick spray of antimicrobial deodorizer before you pack it up. It'll keep your hockey bag smelling pleasant, too.
Shower Shoes and Personal Hygiene Items
A bar of soap, a travel bottle of shampoo, and a stick of deodorant will help make your post-game dinner date a success. Shower shoes or shower slides are particularly important, as many facility showers are breeding grounds for athlete's foot and a host of other unseemly bacteria.
Anti-Fog Spray and Microfiber Cloth
A quick hit of anti-fog spray between shifts makes a big difference for players who prefer shields. Apply it with a microfiber cloth to keep your visor free of scratches.
Spare Towel
A spare towel is a handy item to carry in your hockey equipment bag. You can use it to keep your visor streak-free and to wipe the sweat from your face between shifts. Towels are also great for keeping your blades dry after the game, which will help them resist corrosion and last longer.
Food
Good nutrition is a must for everyone, and particularly athletes. It's always smart to keep an energy bar, banana, or orange on hand for a quick potassium boost. The right healthy snack can give you the shot of energy you need when you're tiring, and will help prevent cramping after the game.
---
That's a lot of stuff to carry back and forth to the game. The good news is that most of the hockey bag essentials you'll carry are very small. Hockey bags, too, come in a variety of sizes, so you should have no problem finding the right one for everything you plan to carry.
Are you new to hockey or putting together a hockey bag for your child? Pure Hockey offers equipment and accessories for players of all ages and at every level of play. And our Low-Price Guarantee promises the most competitive prices on everything we sell, so shop online with confidence for all your hockey gear.