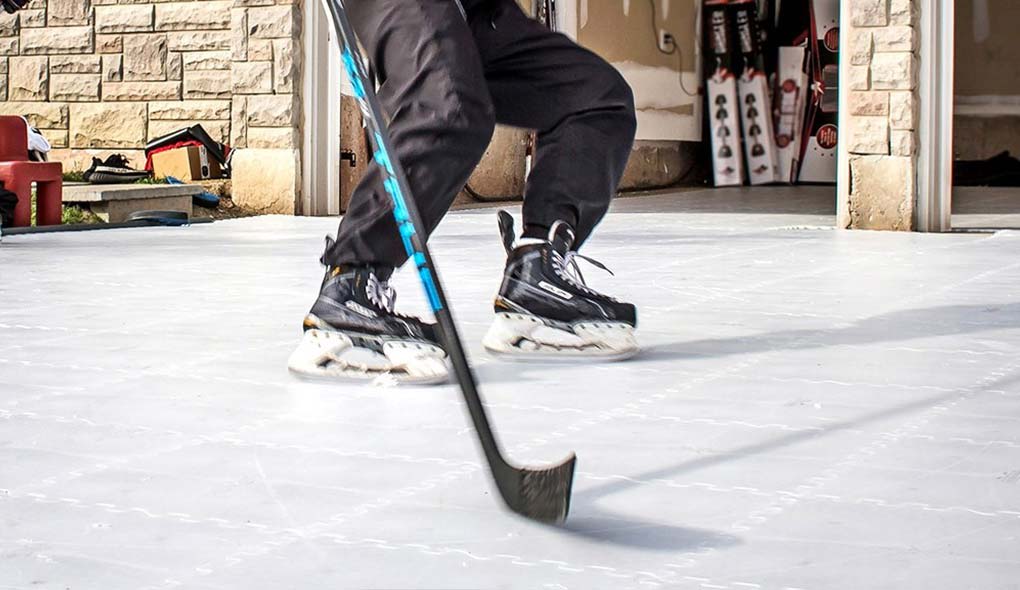 It's mid-summer. In Phoenix. The perfect time to play hockey on synthetic ice.
You send a group text: "30 min til puck drops."
Within seconds, the expected replies begin to appear.
"Lace 'em up."
"I'm in!"
"On my way."
"Cool but I'll be late."
Friends planning to play hockey outside in 100-degree weather? Sound far-fetched?
Not really. The opportunity has existed for decades.
For better or worse, the advent of synthetic ice in the 1960s has made hockey a year-round sport—in any climate.
Just ask Tampa Bay Lightning center Steven Stamkos, the 2008 No. 1 overall NHL draft choice who recently reached 400 career tallies.
Throughout his 12-year career, Stamkos combined a strong work ethic with blazing one-timers and a strong skating style to become a six-time NHL All-Star.
Practicing with his dad on synthetic ice when he was a youth, Stamkos was known for taking 500 shots a day to refine his approach and execution.
It's not a stretch to imagine a young Stamkos taking shot after shot and rehearsing his signature goal celebration, gliding along the synthetic hockey ice on one knee, pumping his fist.
What Is Synthetic Ice, and What Is It Made Of?
Synthetic ice is an interlocking series of smooth, polymer-based panels used to mimic natural ice for a true skating experience.
Over the years, synthetic ice panels have been enhanced through a series of upgrades and innovations. Consistently improving the feel of skating, modern panels include ultra-high molecular weight and high-density polyethylene, which replaced surfaces that were too soft or too hard.
Synthetic ice improvements have come through a series of experiments with various polymer compounds and the addition of "slip" agents, helping with overall performance.
Depending on its use, synthetic ice can be purchased to fit a variety of dimensions. Panels come in a series of sizes and thicknesses. Setup can be simple. Generally, a mallet is all that's needed to piece together a rink to fit the practice area's dimensions.
How Much Does a Synthetic Ice Rink Cost?
Two important questions may pop up when interested parties begin thinking about making such an investment: how much does a synthetic ice rink cost, and how long does synthetic ice last?
The answer to both questions is simple economics. It depends on the quality of the product. But you should expect to spend anywhere from a few hundred to several thousand dollars depending on the size of the rink you plan to build.
Pros and Cons of Synthetic Ice
When analyzing the benefits and shortcomings of synthetic ice, many enthusiasts are speaking out in favor of how much the technology has improved over the past few decades.
Here are some pros and cons:
Pro: Synthetic Ice Closely Simulates Real Ice
While early, cheaper versions of synthetic ice frustrated many skaters because of faulty surfaces and the rapid decline of their skate blades, technological improvements have now made it possible for hockey players to work on skating skills such as starting and stopping, turning, and skating backward.
And high-quality synthetic ice is the closest alternative to practicing stickhandling, passing, and shooting on real ice.
Just ask Stamkos.
Pro: You Can Use Synthetic Ice All Year
For a majority of skaters, discovering open ice times can prove difficult, especially when they want to work on technique and form. Ice times at local rinks can also get expensive.
With synthetic ice, there are endless opportunities to practice in more controlled environments, like a basement or a garage.
Pro: You Can Use Synthetic Ice in Any Weather
Synthetic ice can be used in virtually all weather conditions. And this is one of the primary reasons skaters have purchased synthetic ice panels and accessories historically.
Pro: Synthetic Ice Is Cost-Efficient
Cost-wise, synthetic boards have proven to be efficient, in part, because purchases of compressors to refrigerate ice surfaces can be effectively eliminated. And owners of synthetic ice panels don't have to worry about keeping the room's humidity and temperature at optimal levels.
Con: Synthetic Ice Can Damage Your Skates
Low-quality or improperly maintained panels could harm your skates and ruin the skating session.
Older-style panels were constructed of low molecular weight plastics, which caused the soft surfaces to break down. Hard polymer surfaces can make the edges of skates dull quickly, causing skaters to lose their balance and wipe out.
Con: Synthetic Ice Is Not as Smooth as Real Ice
It's true that even top-of-the-line synthetic ice surfaces are not as naturally smooth as real ice and often cause resistance in each glide. Over time, though, the added friction could prove beneficial, in that the extra effort can build a skater's endurance and strength.
When skaters return to a natural ice surface, some experience a smoother, more powerful glide, improving their speed and balance.
How to Clean Synthetic Ice
Forget about gassing up and driving a Zamboni around synthetic ice rinks.
Simply plug in a vacuum cleaner. It will clear the shavings from most surfaces, making the next skating session a smoother experience.
Can You Play Hockey on Synthetic Ice?
Yes. And who would argue with one of the top NHL forwards over the past decade?
Since Stamkos has been playing hockey on synthetic ice since he was young, he undoubtedly would agree.
Others use it for figure skating or casual glides.
Do You Have to Resurface Synthetic Ice?
When a rink is set up and ready to use, owners will eventually have to learn how to resurface synthetic ice. What you'll need to do, again, varies depending on the type of panels you purchased.
Some high-quality synthetic ice products are designed with "self-lubrication" technology. This feature creates a smooth glide without added chemicals in the panels. Other surfaces include UV protection, which helps keep the synthetic ice from fading when exposed to natural elements, like the sun and snow.
Top-of-the-line accessories are essential to protect synthetic hockey ice panels. However seamless the panels, if the dasher boards (the boards surrounding hockey rinks) are low grade, they will affect the overall synthetic ice experience.
Similar to many other consumer goods, there is a big difference between high-end synthetic ice surfaces and low-quality versions. Research is key when deciding to make such an investment.
It could make all the difference between a great skating experience and potentially a frustrating one.
In any type of weather or time of day.